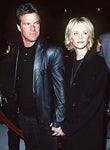 Though the public perception is that Meg Ryan's marriage to Dennis Quaid ended because she had a dirty fling with Russell Crowe, she tells
InStyle
that Dennis had been a
long time philanderer.
"Dennis was not faithful to me for a very long time, and that was very painful…Russell didn't break up the marriage. He was definitely there at the end, but it wasn't his fault. I was a mess." • Lisa Kudrow, the only female
Friend
who didn't sleep with Adam Duritz, is going to
star
in a web series called
Web Therapy
, which debuted on Lexus's branded channel,
L Studio
. According to
Mediaweek
, "Kudrow plays Fiona Wallice, a psychotherapist who conducts absurdly abridged three-minute sessions via the Internet that do little to help her clients." • Despite a broken engagement, Michael Bolton and Nicollette Sheridan
"remain friends."
Neat?[
Us
,
MediaWeek
,
People
]