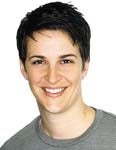 Great news for Rachel Maddow: her new show on MSNBC is a
ratings juggernaut.
Her show has beaten both Keith Olbermann's and Larry King's and it's only been around for a few weeks. • Robert Downey Jr.'s friends think his sexuality is
"fluid."
Downey tells the London
Sunday Times
, "A lot of my peer group think I'm an eccentric bisexual…That's okay. Being relaxed about sexuality is something you're born with." • David Eigenberg, otherwise known as Steve from
Sex and the City
,
is going to be a dad.
David, a former marine met his wife, ex-Army specialist Chrysti, at a military party six years ago. [
Newsbusters
,
A Socialite's Life
,
Daily Star
]