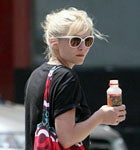 Kirsten Dunst:
drunk with power!
According to author and screenwriter Toby Young, Dunst had him banned from the set of the film he wrote,
How To Lose Friends and Alienate People
. Young said, "[Dunst] overheard me giving the producer a 'note' on her performance in a particular scene…Kirsten overheard this exchange and interpreted it as a complaint about her acting ability. It was after this, apparently, that she took Bob [Weide, director] to one side and asked if I could be kept at arm's length in future." • Uh, I guess there were rumors floating around that
Paris Hilton is pregnant?
Well she's not. Hooray! • Drudge is reporting that
Oprah is vehemently against
hosting Sarah Palin on her show. Apparently Oprah has blocked people in the past — notably Clarence Thomas — from her show before. [
Perez
,
Mirror
,
Drudge
]