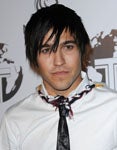 Noted guyliner enthusiast Pete Wentz has gone up in our estimation. He says that the members of Fall Out Boy are
"liberal Democrats from the suburbs of Chicago,"
and that his parents met when they were working on a Joe Biden campaign!!! Cute. • Oh good God, not sure if this is awesome or awful: a virtual Heidi Montag and Spencer Pratt are pitted against each other in a video game boxing match as part of a new game called
"Facebreaker."
According to
Us
, "The 'Facebreaker' game... also has a feature that allows any non-famous person to face off against a celebrity," so if you ever wanted to slap Heidi, here's your chance. • Tiny Dancer, the world's smallest dog,
is now peeing on the big hydrant in the sky.
The 4-inch chihuahua was only 2 years old. RIP Tiny Dancer! [
People
,
Us
,
Dlisted
]