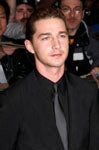 Shia LaBeouf is
back on the set
of
Transformers 2
after getting surgery on his hand. The injury has been written into the
Transformers
script. • Fellow ex-teenybopper J.C. Chasez says that Britney is really
"pulling it together"
these days. "I'm glad she's pulling it together, because everybody falls down in life at one time or another…the toughest part is, how do you pick yourself up again? It looks like she's on the path to doing that – and it's a good thing to see," the N'Sync member told
People
. Everyone is rootin' for you Brit! • First they're redoing
90210
, and now there's a rumor that the cast of
Melrose Place
will reunite for the Emmys.
But never fear, Shannen Doherty fans, according to a source, they are also "thinking of reuniting the casts of "Happy Days," "Dynasty," "Dallas," "Knots Landing" and the original "Beverly Hills 90210." [
TMZ
,
People
,
Dlisted
]