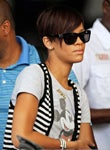 Is Rihanna
headed for the poor house?
Rumor is that she only has $20,000 to her name. Rihanna has accused her ex-business manager, Patricia Williams, of stealing from her, but Patricia battled back by saying Def Jam doesn't "fund Rihanna properly," and all the money Ri made from her endorsements and tours paid for her albums and videos. That actually rings true…• Health experts are reportedly
upset with Michael Phelps
because he endorses the high fructose corn syrup-laden Frosted Flakes. God, he might as well be representing
poison
! The horror! • When we first read this headline:
"Makeup Artist to Angelina Jolie, Jennifer Garner Found Dead"
, we thought, OMG Jennifer Garner was found dead!?!? But then we realized that makeup artist to the stars, the aptly named Paul Starr, was the unfortunate one. He was found dead in his L.A. apartment. [
Dlisted
,
TMZ
,
Us
]