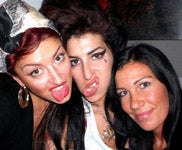 If Amy Winehouse's friends can't save her from her drug addled ways, maybe a group of
singing Austrian monks can?
According to the
Guardian
, the Cistercian Monks Of Stift Heiligenkreuz have invited Amy to stay at their monastery where, according to one monk, "She could stay a week or two and discuss the big questions of life - faith might be an answer for her." • More Wino news: apparently the previous tenant of Amy's flat
died there.
Is that really a big deal? People die in their homes all the time. • Oprah and her bff Gayle King
will attend
the Democratic National Convention on August 28 in Denver to show their support of Obama, but they'll be in the audience, not on the podium. Gayle tells
ET
: "Oprah has not been asked to introduce him, is not expecting to be asked to introduce him and I would doubt that she would want to introduce him. She thinks this is HIS moment. I know that she is planning to be there." [
Guardian
,
Mirror
,
ET Online
]