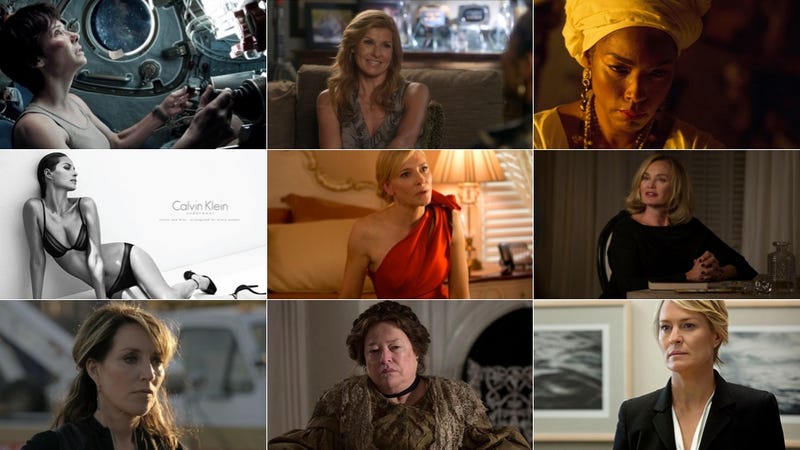 As the month winds down, a few twenty/thirty-somethings — Miley, Beyoncé, JLaw — are making headlines. But looking back at American entertainment in 2013 as a whole, it was a great year for women over 40.
Even though there were some big-budget movies that completely bombed this summer (looking at you, Lone Ranger), according to the AP, this year, Hollywood has raked in record amounts of cash:
Despite a string of summertime flops, Hollywood is expected to have a banner year at the domestic box office, coming in just shy of $11 billion, the largest annual take ever.
Part of the reason for this record box office? Gravity, a movie in which Sandra Bullock, a 49-year-old woman, dominates the screen. For hours. Yes, the film also stars the beauty of space and some out-of-this-world special effects, but she — a grown woman — is the face of the film. A film that's earned $254 million at the domestic box office and over $650 million (over half a billion)worldwide.
But guess what's earned even more than Gravity? Hunger Games: Catching Fire. Sure, the star, Jennifer Lawrence, is 23. But producer Nina Jacobson, who brought the female-centric blockbuster to the big screen, is 48; Suzanne Collins, who wrote the novels on which the franchise is based, is 51. For years, there have been a lack of female leads in Hollywood, and most big-budget high-profile flicks have been male-oriented. A few years ago we questioned whether or not female buddy comedies even existed; this year we had The Heat. Sandra Bullock, 49, and Melissa McCarthy, 43.