In the press release that accompanies her new Rimmel Lasting Finish lipstick campaign, Zooey Deschanel says:
"I love makeup. I've been wearing different beauty products for years. I shop everywhere and I love the fact you can get such great looks at a reasonable price. I want to be associated with products that are accessible for everyone."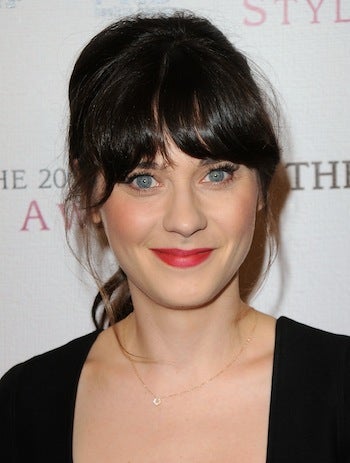 But, consumers may have a hard time associating Deschanel with the brand since she doesn't look anything like herself in the new ad. Rimmel erased the lines around her eyes and mouth, giving her an unhuman glow. And though we're no fans of erasing any wrinkles, we're not even talking about lines caused by aging. By excessively smoothing out her undereye area, they altered the shape of her features.
Perhaps the company was just trying to get more bang for their buck. Since it's now even harder to tell Deschanel apart from Katy Perry and Alessandra Torresani, the ad now appeals to fans of 500 Days Of Summer, Teenage Dream, and the sci-fi show Caprica.
Does Zooey Deschanel Look Different In This Rimmel London Ad? [Racked]
Finally, In The Same Place At The Same Time [Unreality Magazine]
Alessandra Torresani Gets Inside Caprica's Prime Cylon [Wired]