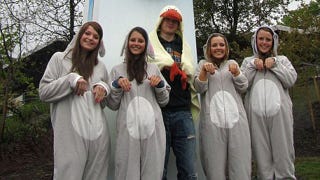 A group of teens tried to go to the Edinburgh Zoo while wearing homemade Easter bunny costumes as a treat for their friend Laura Gibson, who has cancer. However, Gibson says on her blog that they were told the outfits posed a threat to the animals:
Arrived at the zoo and went to the ticket desk where the manager said we weren't allowed in due to our inappropriate attire that would scare and upset the animals and cause them "psychological damage". OH PUH-LEASE. There are people with face paint and masks and we weren't allowed in wearing bunny costumes.
A zoo spokeswoman responded, "There is very real evidence that humans in costume can cause distress to some of the zoo animals." Instead the group went to a bowling alley, where their adorable costumes could only psychologically damage other humans.