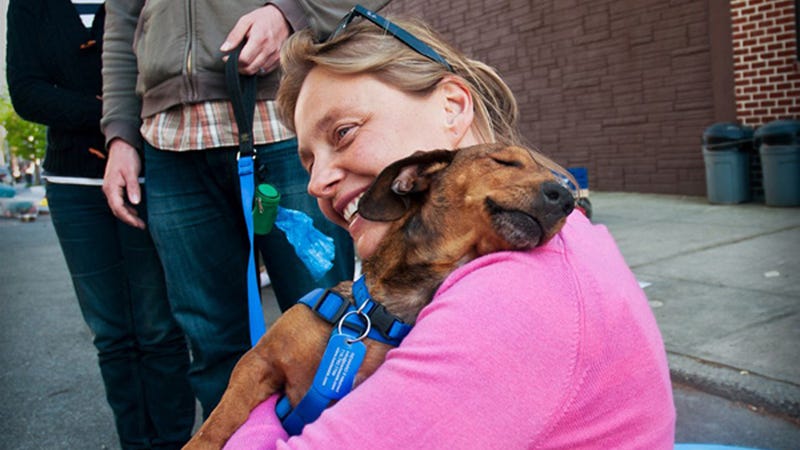 This is Captain Morgan, a dachshund who was on death row in one of Alabama's high-kill shelters when the folks at Badass Brooklyn Animal Rescue took him in. They placed him with Eva Armstrong, the group's co-director, and with her by his side, he learned to be a loved dog.
He was eventually adopted, but when he runs into his foster mom in Brooklyn, he jumps back into her arms for a happy hug. That's the picture you see above, and I'm tearing up just looking at it. Look at that smile!

As someone who has fostered hundreds of dogs — I've been doing this for almost 15 years and have the dees-gust-ing carpets to prove it! — I can relate to the happiness that is seeing a foster dog on the street. One of my all time favorites, Ike, an enormous-headed pit bull/basset hound mix, was adopted to a lovely woman who used to lecture (maybe still does?) in the Women's Studies department at San Francisco State University. I'd regularly see her and Mr. Ike in the streets of the Mission, and hear tales about how he was the official mascot of the department, and helped lots of ladies get over their fear of dogs, in general, and pit bulls, in particular. Oh, and every time I saw Ike, he humped my leg. So, uh, a little different than a hug and a smile, but I'll takes what I can gets.
[Dogster]
[Photos by Hilary Benas via Badass Brooklyn's Facebook.]