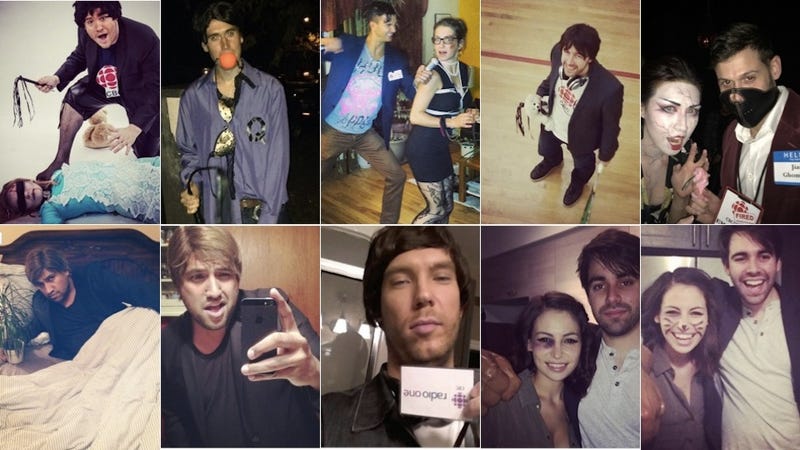 If you're a self-identified irreverent guy who wanted to spend Halloween in a costume so uniquely Too Soon that bowties would spin in offense and monocles would pop out in surprise, during your hunt for that perfectly distasteful getup, your mind might have alit on dressing like alleged sexual abuser Jian Ghomeshi. You certainly weren't the only one.
The Huffington Post collected more than a dozen examples of people who, having very recently learned about Ghomeshi's alleged misconduct, this weekend selected a Jian Ghomeshi outfit, applied a Jian Ghomeshi wig and makeup, and looked in a mirror before they left the house, thinking — This is OK. This is an OK thing that I'm doing.
Ghomeshi is now being investigated by police after three women he allegedly assaulted have spoken with law enforcement and news surfaced last week that "graphic" video evidence of Ghomeshi beating women exists. Nine women in total have come forward to the media about the Q host's disturbing history of alleged abuse, three of them choosing to identify themselves. With every development, this story keeps getting weirder, and more upsetting. Ghomeshi's current whereabouts are unknown.
For these reasons, many on social media found Jian Ghomeshi costumes offensive. But on the other hand, the allegations against Ghomeshi paint him as a frightening character who would lure women into his lair with promises of career advancement and companionship, only to subject them to unwanted violence. He's no Nosferatu, but if the charges against him bear out, Jian Ghomeshi deserves a place in the pantheon of modern monsters. Just maybe not Halloween costumes.
Images via Instagram/HuffPo