Five men have been arrested in New York as a part of an ongoing investigation—titled Operation Bad Odor—by U.S. Immigration and Customs Enforcement (I.C.E) into counterfeit perfumes and cosmetics. According to federal prosecutors, the defendants knowingly sold counterfeit designer perfumes (which included Daisy by Marc Jacobs, Chanel No. 5, Dolce and Gabbana Light Blue, and Gucci Guilty), made with ingredients such as urine and antifreeze, to wholesalers in up to six states.
According to the feds, Patrick Badal, Kaium Shah, Kenny Ni, Abdul Kashem, and Parvez Shazzed make up the "Counterfeit Perfume Ring," having allegedly imported generic fragrances from China, along with falsely trademarked high-end perfume packaging. The fragrances were eventually brought to Queens, NY, where they were put in "deceptive packaging" and sold.
Via the Fashion Law:
According to ICE's two-year investigation, the men sold the Chinese-manufactured fragrances, which they held out to be authentic, to wholesalers in at least seven American states, including New York. Unlike authentic luxury fragrances, the ones at issue contained urine, antifreeze and "other unpleasant, flammable or dangerous chemicals that burn when applied to the skin." ICE confiscated roughly 10,000 boxes containing the counterfeit perfume, which were destined for distribution "to various businesses in the New York City area, and e-commerce sites, as well," according to Homeland Security investigator Angel Melendez.
(Emphasis mine.)
CBS News reports:
All five defendants are charged with conspiracy and trafficking in counterfeit goods–with each count carrying a maximum sentence of 10 years in prison–and all but Shazzed are also charged with trafficking in counterfeit packaging, which carries a maximum sentence of five years, prosecutors said. Badal and Shah are also charged with smuggling goods into the United States, which carries a maximum sentence of 20 years in prison, prosecutors said.
G/O Media may get a commission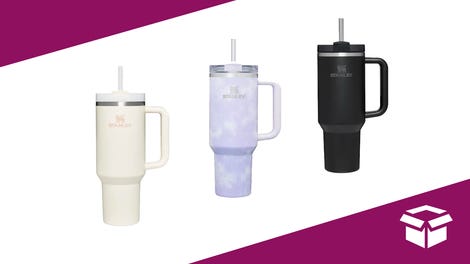 Up to 45% off
Stanley Cup Sale
In 2015, the Department of Homeland Security made 2,301 seizures of pharmaceuticals or personal-care products—a 25 percent jump from 2014.
"We are seeing more counterfeit beauty products and cosmetics, and that specific area is an area where we're aggressively targeting the individuals who sell those goods, which [was] the purpose of this effort, says I.C.E spokesman Khaalid Walls.
Walls also warns that "anything that can be counterfeited is a potential profit for the individuals or group who are selling these inferior goods. If you're getting a counterfeit beauty product or cosmetic, the reality is you don't know what's in it."
But the answer is probably pee.
---
Image via the U.S. Attorney's Office.