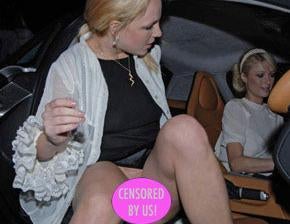 There's a reason Britney Spears is a millionaire - she doesn't give things away for free.
Apart from record sales, concert tickets (when she's not cancelling them), and merchandise, she charges tens of thousands of dollars for all those cloyingly soft-focus breathlessly adoring People cover stories chronicling how much she loves Kevin Federline, no really, she does and they're like totally happy together. But one thing she's consistently refused to do is pose for Playboy, despite having been offered around $1 million in the past. Now that we've all seen her vagina, is it time to reconsider before her genital market value sinks?
Nope, accoring to OK! magazine, which reports a Playboy source as saying, "[Britney] has always said no. She thinks it is an 'icky' thing for a mom to do."
Whereas flashing your shaven coochie all over town, shagging Brandon Davies in a bathroom and playing lesbefriends with Paris Hilton is just about as far from 'icky' as you could get, obviously.