It's been really hot here in New York. For those of us sans AC, really, really hot. Personally, I've been lounging around in a kimono like something out of a Tennessee Williams play. And one can only assume that "Nikki Midtown", where the 19th Annual Pre-Daytime Emmy Awards Party (or APDEAP, as it's known on my couch), was really hot too. So I'm going to try to go easy on the following collection of daytime stars, many of whom seem to have been enticed by Hot Topic's superior air conditioning. And hey, haven't we all? Fever dream, post-jump.
The Good:


Hey! Remember the other day when Eva was pictured and everyone was all, isn't fellow ANTM Yaya DeCosta also a thespian? Why, yes, she is!
G/O Media may get a commission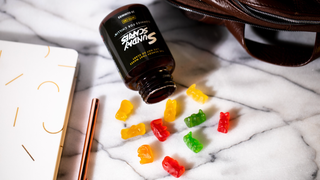 10mg CBD Gummies (22-Count)
Okay: technically As The World Turns' Ewa de Cruz's floral is borderline. But hers is the best classic bitch face I've seen in many, many a moon.
Marie Wilson's (ATWT)little number gets points for coolness, practicality. (No, seriously: it's been really hot.)
A gentle risk, true. But Amanda Baker's (General Hospital)is one of the few of the evening.
The Bad:


OLTL's Bethann Bonner! Well, it's really hot.
Okay. Kristen Alderson's (OLTL) is the first of the Hot Topic numbers I was talking about.
Britney Underwood's (OLTL) is the second...
...and Jessica Leccia (The Guiding Light) makes three.


The Ugly:


GL's Caitlin Van Zandt. My dear young friend. Twenty degrees ago you'd have gotten off with a "Bad." But I have precisely zero air conditioning and your tights and boots are imperiling my vicarious health.
FilmMagic" />