Last Friday, I found myself on a mission to buy a new bra after realizing that all of my old ones had been worn to near-transparency or had picked up that classic dirt-tinge that's somehow unique to old underwear.

In addition to needing a new bra out of basic necessity, I also decided that I've reached the point in my life where I deserve a really nice bra as opposed to whatever I can find in my size on the bargain rack, so after hearing a few recommendations, I headed to Journelle, a lingerie store near my office with pretty, practical, and somewhat affordable bras.
Who would have known that I was about to encounter a whole new world of style and comfort?
There's an old episode of Oprah that features a bra expert who's there to size the audience. Despite watching this long before I probably needed a bra, one piece of information from the show has always stuck with me. Most women, according to Oprah's bra expert, wear bras that are at least one band size too big and one cup size too small. Basically, a huge chunk of the bra wearing population is walking around torturing themselves and it doesn't have to be this way.
With this knowledge, I wasn't too shocked when earlier in my life, at 19 or 20, I found out that I had been wearing a 36B when I should have been wearing a 34C. Oprah had prepared me for this moment and I accepted the Macy's bra fitter's wisdom with average-titted grace. I've been wearing that size for the past 10 years and it's been...fine. Occasionally uncomfortable, but what bra—besides NO bra—isn't?
G/O Media may get a commission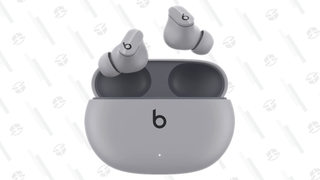 There's actually an answer to that question: Certain bras—the well-fitting ones—should NOT be uncomfortable. They shouldn't slide around, cut into you, slip off your shoulders, or make you grit your teeth as you long for that moment of sweet release when, finally home, you can let your jugs hang free. I forgot this, which is why I was shocked when once again, a bra fitter—Oprah forgive me—informed me that, for the past few years, I've been living my life all wrong.
"You've been living your life all wrong," said the pleasant Journelle saleswoman, Steph, as she handed me a glass of champagne (nice underwear stores give you champagne!) and led me to the fitting room. (What she actually said was probably more like "How can I help you? Have you been fitted recently?" but—spiritually, at least—that's not how I heard it.)
Back in the fitting room the fitter measured and informed me that, much like I had heard at that Macy's all those years ago, I've been wearing the wrong bra size, because guess what? Boobs change. (I'd tell you what the new size is, but I don't want to brag about my newly discovered honkin' naturals.) She then asked what I was looking for in a bra (practical, but not hideous), found out my budget, and disappeared to disappear and return with the prettiest, most flattering bra that I've ever put on.
Since I took the bra home with me, I've been admiring my silhouette in window reflections and repeatedly flashing myself in the bathroom mirror, just so I can wolf-eye my stunning décolletage, Looney Tunes-style.
But why should I be the only one to let out an inappropriate "AWOOOGA" at the sight of my own tits? You deserve that, too. In fact, everyone who wears a bra deserves it, so go get yourself fitted. You don't have to head to a fancy lingerie store if you don't want to or can't afford it—most department stores have a fitter, as do most Victoria's Secrets, if that's your bag. There are even companies that offer online bra fittings, so WHY WAIT. No time like the present to treat your hooters like the two prize owls that they are.
---
Image via Now & Then/New Line Cinema.