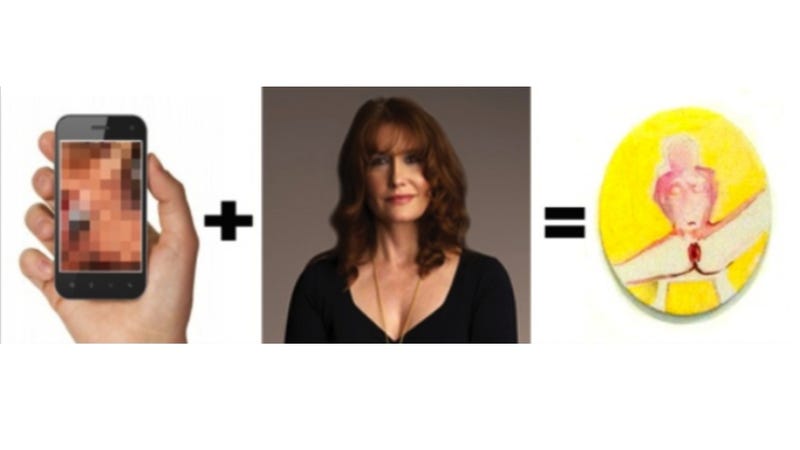 In case you needed any more proof that our sexts will be the only significant cultural artifacts that anthropologists of the future salvage from the wreckage-strewn wastelands that were once our magnificent cities, behold: a three-day installation at the New Museum by famed performance artist Karen Finley will turn your sexts into a series of paintings, which will then be displayed in the museum. At the end of the three days, each patron will get to take home one of the paintings in the set. This installation is the extremely highbrow equivalent of screenshotting a sensual SnapChat.
"Sext Me If You Can," which is what it's called, will take place in the New Museum Lobby in full view of Museum visitors, where Finley will create limited edition sext-paintings for participants who have paid a commissioning fee. How much to have your sext immortalized and displayed in a gallery like the High Art that it is? The price ranges from $200 for a work on paper to $500 for a large oil canvas. You also have to spend ten minutes having a private one-on-one sitting with the legendary artist, during which time you must enact the most stodgy-sounding sentence about sexting that I've ever read:
During your sitting, you will receive access to a private phone number for the purpose of sending Finley a "sext."
As paid pseudo-sexual encounters go, this one sounds fairly cripplingly awkward, but maybe I think that because I have no natural aptitude for sexting. What do you say? "Hello, award-winning performance artist and former Ms. Woman of the Year Karen Finley. I'm excited to see what you do with this thing! Ha! Okay, um, if you could please provide me with access to the private phone number, I will be sending you my 'sext' now. Ugh, modernity."
"Sext Me If You Can" is an exploration of the body politic, as is most of Finley's work, but also of the "fundamental divergences between performance art and visual art economies." That matter is especially relevant, as the installation is part of the NEA 4 in residence, which revisits four performance artists whose artwork was infamously defunded by the National Endowment for the Arts in the early 1990s on the grounds that it was obscene.
The installation begins May 23 and lasts until the 26 — so, a little too late to be the worst mother's day gift ever. Bring your own cellphone!
[New Museum / Image via New Museum]