Today in Hilarious and Beautiful Comeuppance News, Yelp reviewers have taken revenge on a blatantly anti-gay restaurant in the most fitting and hilarious way possible.
Two days ago, Gawker covered a story out of Pittsburg, Texas, about a restaurant/bait house/country store called Big Earl's,* which told a gay couple not to come back because apparently they were touching legs, and that's not acceptable couples' behavior if you have two Tab A's and no Slot B's. As part of the whole exchange, the waitress (who happens to be Big Earl's daughter, because of course she does) actually told the men "we don't like fags here." Ohhhhhh, it's on.
Apparently, numerous people on Yelp reacted to it the same way I did, only instead of angry protests, they came up with something WAY more clever: they spammed the Yelp page with reviews that essentially turned Big Earl's into a gay bar.
Some choice excerpts:
"The glory hole in the bathroom's last stall is legendary."
"Do NOT order the pulled pork! I thought it was a sandwich! Instead, a sweaty, overweight man whose lungs were the only things working harder than his belt showed up to my table with a handful of rancid coleslaw offering a $9 handjob. I didn't catch his name... Earl something. The only thing big about him was the vein on his neck that looked like it was going to pop."
"I heard so many wonderful reviews of Big Earl's Bait House. I met my boyfriend there years ago, a Gay cow-hand named Big Luke. We owe so much to this establishment...this proves the point that love can be found just around the corner. We have been in love since that special day. We are now planning to getting married."
"I couldn't eat in peace here. I came in to order some pork chops and instead all the male employees continued to undress me with there [sic] eyes. The proprietor kept making kissy faces at me."
"I had the inbred pie. Horrible."
"The sign says that men should act like men and women should be ladies, so I came in expecting drag queen divas, butch babes, and tantalizing two-spirits. Instead there was only bait (not the kind I was hoping for) and a disturbing lack of all things Madonna and Gaga."
G/O Media may get a commission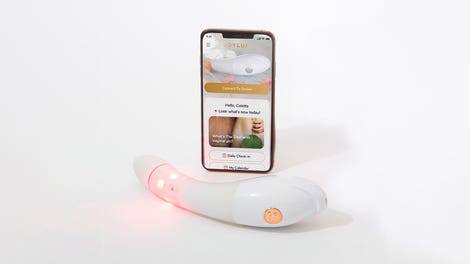 $50 Off
Joylux vFit Gold Device
And then there's this one, which seriously just made me stand up and slow clap in the middle of my empty apartment:
"The coleslaw had bigotry all over it and the club sandwich had way too much white privilege. Fairly certain the chef's confusion over what it means to be a Christian is what led to my pork chop being undercooked."
I've been critical of Yelp in the past, but if there's anything this shows us, it's that it's a tool that can be used for good or ill like any other. Funny enough, there's one idiot lawyer in the reviews threatening people with legal action if they leave fake reviews (which has as much basis in legal doctrine as the established precedent of "Finders Keepers") — luckily, no one seems to be listening to him.
Well done, Yelpers. I salute you.
*If Sam Houston (fine, you win, assholes, I'll go with someone who really represents your state) Rick Perry punched a bear while wearing a Confederate flag belt buckle and eating BBQ, it would not be more quintessentially Texan than this sentence.
The wondrous above photoshop comes courtesy of my friend Erin, who you can find on Twitter @ThatGeekChick.