Yale's star quarterback seems to have withdrawn his Rhodes scholarship application because he was accused of sexual assault. I say "seems to" because the story is incredibly vague — and that might be Yale's fault.
According to the Times, here's what we do know: Patrick Witt was scheduled to interview for the Rhodes on the very day of the Harvard-Yale game. It was a compelling story of a young man's conflicting ambitions! Ultimately, he decided to play in the game, making everyone think he was loyal to his team. A football hero! But what actually happened is that someone tipped off the Rhodes trust that Witt had been accused of sexual assault by a fellow Yale student. Subsequently, he withdrew his Rhodes application. He's now training in California for a possible NFL career. Now for the weird shit:
"according to people involved on both sides of the process, the Rhodes Trust had learned through unofficial channels that a fellow student had accused Witt of sexual assault."
Get ready. No one has gone on the record for this story, and everything is unofficial.
"Witt's accuser has not gone to the police, nor filed what Yale considers a formal complaint. The New York Times has not spoken with her and does not know her name."
G/O Media may get a commission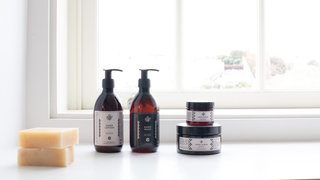 Exfoliate and Hydrate
The Handmade Soap Company
See what I mean?
"Witt did not respond to messages left over several days on his cellphone, his Yale e-mail and his Facebook page."
Okay, it's no shock that Witt didn't want to comment. Still, another example of how no one will talk to the Times about this.
Many aspects of the situation remain unknown, including some details of the allegation against Witt; how he responded; how it was resolved; and whether Yale officials who handle Rhodes applications — including Richard C. Levin, the university's president, who signed Witt's endorsement letter — knew of the complaint.

Conroy said that the dean of Yale College is notified when a complaint is made and told of any punishment that results (along with administrators of the accused student's residential college). The dean must also write a report accompanying each Rhodes candidate's application, though in Witt's case, that may have occurred before the accuser came forward.
This part is especially maddening. Did Yale know about the allegations before they endorsed him, or not?
University officials would not discuss other issues, like why Yale did not officially alert the Rhodes Trust of the complaint; what it did upon learning the candidacy had been suspended; and whether Yale ultimately decided not to endorse Witt before he withdrew on his own.
Well, of course not.
In early November, according to those with knowledge of the matter, someone told the Rhodes Trust about the sexual assault accusation. The notification was not anonymous; it was not, though, made formally by a Yale official.
If it was not anonymous then who was the whistle-blower?
Like many colleges and universities, Yale offers accusers a choice between making a formal complaint and an informal one. This student chose the informal process. In that process, an individual or a few members of the committee are charged with resolving the issue, without a full investigation or a finding of guilt or innocence. The most significant outcome might be an agreement to move the accused to a different dorm.
Now, this is interesting. Part of the reason this case is so murky is that it was handled not through the criminal justice system, or even through Yale's formal complaint system, but informally. This was the victim's decision, and it's not hard to see why — an informal complaint doesn't require a survivor to take the stand against her rapist and go through the painful shaming process that often entails. There are lots of reasons a survivor might have for wanting to deal with the accused quietly, and we need to respect those. But a quiet process does lead to a confusing narrative if the accusations ever get wider media attention, as those against Witt now have.
Again, this isn't the victim's fault. Nor do I blame the Times for running with this story. But what's getting obscured amid the clouds of anonymity, non-anonymity, and unofficialness is whether or not Yale did something really wrong. A commenter at the Yale Daily News sums up this question:
This story is no longer about Patrick Witt.

This story is now about Richard Levin.

At some point in Witt's Rhodes candidacy, Yale found out that another student had accused him of assault. Yale allowed his application to continue normally. That may be the appropriate response, given that no formal complaint had been filed.

But once the Rhodes trust suspended Witt's candidacy, Yale's culpability is much harder to ignore. [...] [Yale athletic director Tom] Beckett, Levin and every Yale adminstrator involved in sheparding Witt's candidacy through the Rhodes selection process need to come clean about what they knew and when they knew it.
Apparently, this is also a story about the Yale Daily News itself. According to former Opinions Editor Alex Klein, the paper knew about the allegations back in November, but chose not to publish them. When a member of the editorial board asked then-editor-in-chief Max de la Bruyere why they were sitting on the story, he reportedly said, "It's more complicated than that." Complicated as in pressure from the administration not to publish? We can't know for sure, but Klein has some harsh words for his former paper — he reminds us that Yale is in the midst of a Title IX complaint for fostering a "hostile sexual climate," and writes, "The paper and its editor are also complicit in Yale's culture of secrecy surrounding sexual assault: the very object of the Title IX complaint."
An informal assault reporting process doesn't just help a victim avoid scrutiny — it can also help a university cover its ass. Thanks to the vagueness of the Witt story in its current state, Yale's ass is still partially covered. But the questions are out there. And if Yale endorsed a candidate for the Rhodes scholarship even when they knew he'd been accused of assault — and then (with the help of its newspaper) let him pretend he was taking one for the team when he withdrew his application — these are questions they need to start answering.
Update: Now a sports management firm representing Witt tells the Times that he had totally already decided to play in the Harvard-Yale game before the Rhodes Trust found out about the allegations. Which isn't all that meaningful because they also admit that the Rhodes folks did ask Yale to re-endorse him, meaning they thought the allegations were pretty serious. So even if Witt backed out before they found out, he might well have known something like this was coming. And the fact that nobody questioned the "football hero" narrative in the months since the assault accusation was known to lots of people remains suspicious. Witt's managers also offered some more details about his accuser — they say she was someone he "had known for many months prior and with whom he had engaged in an on-again, off-again relationship beginning in the spring of 2011 and ending about two months before the informal complaint was filed."
Update 2: The full statement from Witt's managers says that the Rhodes Trust didn't actually suspend his candidacy, but rather "asked for an additional letter of reference for Patrick from Yale" in light of the sexual assault allegations.
At Yale, the Collapse of a Rhodes Scholar Candidacy [NYT]
Witt '12 accused of sexual assault, Times reports [Yale Daily News]
Yale Daily News editors sat on explosive Patrick Witt story for months [JimRomenesko.com]