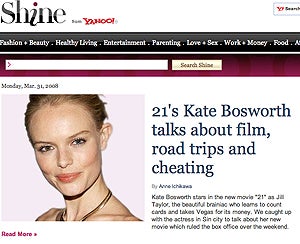 Yahoo has a brand-new "media site" focused on women called Shine. According to Reuters, the site is aimed at 40 million females between the ages of 25 and 54. Some of the stories are republished from from Hearst and Conde Nast publications, but there's also an editorial team to write original pieces and highlight blog entries from readers. Shine attempts to cover fashion and beauty, healthy living, entertainment, parenting, love and sex, work and money, food, at home, and astrology. Phew! Upon first glance, it seems airy, clean and sleek, but navigating the different sections is actually kind of confusing and disorienting. Posts like "Red meat that makes you skinny," "Green Your Life Starting Today" and "Unsexiest Man Awards" didn't really inspire me to click them.
Because it's run by Yahoo, the site knew my Yahoo screenname, so I was curious what I'd find when I clicked the section "My Stuff." That page holds a section called "Posts You'll Love." They are: "6 ways to eat bread dining out and save on calories," (eh, no thanks) "Top 10 deadbeat dads, Los Angeles style" (what?) "Horse drugs, peanuts, and other crazy celeb diet secrets" (interesting, but I think I read it in one of the Midweek Madness mags already.)
Poking around some more, I did find a post I liked called "Dear Carla Bruni-Sarkozy: I Love You," and I learned about a web site where you can exchange books with people. I checked my horoscope, which was comes in a one-liner, "quickie" (Today, you will prove to yourself that you are capable of more than you thought.) The "Healthy Living Pick Of The Day" is a cute pirate-inspired swim cap, but why the wordy headline? Why not just call it "Cute Stuff" or "Cute Thing Of The Day" ? The story called "Is Liz Lemon the new Mary Richards?" was fun, but in general, I'm not sure if there's any urgency or "hook" to Shine. Where's the zip? The pizazz? The chutzpah, as exhibited by Yahoo's General Manager, who parks her car in spots reserved for expectant mothers, even though she's not with child? Jane magazine's Brandon Holley is the Editor-In-Chief, after all. Will 40 million women start using Shine as their homepage? Time will tell. But to be honest, I found Shine a little dull.
Yahoo Introduces Shine, A Site For Women [Reuters]
Yahoo Launches Site Focused on Women [AP]
Yahoo To Launch Site For Women [Wall Street Journal]
Yahoo GM Not Expecting, Just Parking Like She Is [Valleywag]
Shine [Yahoo]
Earlier: The 'W' In 'Web' Stands For Women