Y/N is a weekly-ish, pre-approved, snap-judged music guide based on our very scientific, non-subjective Yes/No rating system. Today we celebrate the best, worst and most mediocre new Christmas songs of the season.
Y: Lady Gaga and Tony Bennett flipped "Winter Wonderland" into a jazz tune. It's perfectly over-the-top for this time of year. [That Grape Juice]
N: Jesus, Sam Smith's version of "Have Yourself a Dismal Merry Little Christmas" sounds like the soundtrack to a super depressing Zoloft ad. I don't hate it, but it won't be in my soundtrack rotation. [Idolator]
Y: I love how Earth, Wind & Fire brought that falsetto flourish to a song about the birth of baby Jesus on "Away in a Manger." Yes. It's from their holiday album, Holiday. [YouTube]
N: Meghan Trainor's "I'll Be Home" (featured on Epic's I'll Be Home for Christmas EP) could use a touch more flavor. [YouTube]
G/O Media may get a commission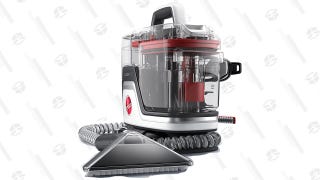 Save $10
Hoover CleanSlate Plus Carpet & Upholstery Cleaner
Y: A London-based girl group called Little Mix nails the joy of Christmas morning with a bubbly cover of "Christmas (Please Come Home)." Hadn't heard of them. It is good. [Capital FM]

Y: Fifth Harmony's melodic, spirited cover of Mariah Carey's classic is worthy of repeat plays once you get past the slightly over-sung intro. [YouTube]
N: Trey Songz decided to put his horny stamp on "All I Want For Christmas" and while it's not a total travesty, his treacly trills don't do justice to Carey's original. [Rap-Up]
N: But if I had to pick between all the All I Want for Christmas Is You's, Idina Menzel would be at the bottom. The vocals are on the thin side. [YouTube]
Y: However, I don't mind Menzel's hammy, ballroom-ready version of "Baby It's Cold Outside" With Michael Bublé. [YouTube]
N: Carl Thomas "Christmas In Paris (Yuletide Nights)"—Did you ask for it? No. Gonna go listen to Emotional. [This Is RnB]
Y: Ariana Grande's "Santa Tell Me" reveals a strange relationship with the man up North, but the song falls right in the tradition of weird and cheery Christmas songs.
Y: Ashanti's cover of the sexiest Christmas song ever, "Santa Baby," on The View is surprisingly cute and cheeky. [Boombox]
Y: Darius Rucker sings the bluesy classic "Please Come Home For Christmas" with the right amount of "sad." [YouTube]
N: I couldn't get into Tamar Braxton's performance of "Silent Night" until the end. She hits the notes, but I'm missing the originality. [This Is RnB]
N: Not your typical holiday jamboree, Field Report's "On Christmas Eve" is about a tragic accident on Christmas Eve. This is probably on Debbie Downer's playlist. [Stereogum]
Y: TLC's slightly saucy "Gift Wrapped Kiss" is not bad, but I'd rather hear the ring-ting-tingling "Sleigh Ride," so I'm gonna post that here instead. [Boombox]