Rachael Ray heads an impressive empire consisting of TV shows, branded merchandise, and even a monthly magazine about living the Rachael Ray lifestyle full of tips designed to simplify and streamline the lives of homemaking adults. But this month's cover of Every Day with Rachael Ray will only make lives more difficult, because the cover is a terrifying photoshop disaster.
Every Day with Rachael Ray's official Facebook page posted the cover image sans text today, and it looked even kookier in all its unobscured glory. Can anybody explain what's going on? Where are her pants? Has Rachael Ray become a mermaid with a tail made out of human skin and flesh? Where is the other side of the picnic table? Why is her hair kind of antigravity like that? Is that even her body? Why does her head seem "off"? Where is the picnic table? What is with that wall of plants? How did she get a cup full of red liquid from a pitcher full of peach colored liquid? What is going on in the lower right hand corner of the image? Where are the shadows coming from and going? Is that food real or am I hallucinating? Is this a trick to get me to eat poison and ensnare me into becoming Rachael Ray's house-elf forever?
The magazine's Facebook fans weren't really into the shot, either.
G/O Media may get a commission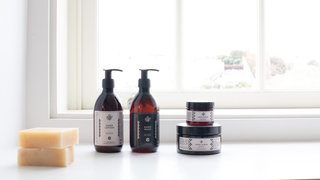 Exfoliate and Hydrate
The Handmade Soap Company
I'm afraid. Hold me.