Starting today, Facebook users can publicly notify friends about their organ donor status. And it's not so you can humblebrag about how superior you are — well, kind of, actually. Facebook's hoping to "peer pressure" its users into registering as organ donors. If everyone else on your Minifeed is doing it, why wouldn't you?
Around 7,000 Americans die each year while waiting for an organ transplant — to put things in perspective, the median wait for a kidney is about four years. People who die waiting do so because there aren't enough donors, not because of medical technology. The vast majority of organs transplanted come from deceased donors who tick off that "donor" box at the D.M.V., but fewer than half of adult Americans sign up, which medical experts say is because people don't like thinking about death while standing in line to renew their license.
"We have attempted to have a sensitive conversation, one that addresses your mortality, at the D.M.V.," Dr. Andrew M. Cameron, the surgical director of liver transplantation at Johns Hopkins Hospital, told the New York Times. "Now we move the conversation into your own home or office with 120 of your closest friends on Facebook." Cameron is an old friend and classmate of Facebook COO Sheryl Sandberg, who came up with the Facebook sharing idea after hearing about Cameron's struggles to find more organ donors at a reunion: why not harness the power of U.S.'s 161 million Facebook users? (And 30 million in the U.K.) As one Stanford professor said, "If you see all your friends do it, or have the illusion all your friends are doing it, it sets up an expectation of sorts and it may become a social norm."
Facebook might not yet be a tool to "solve complex social problems," as Mark Zuckerberg told ABC — but it definitely has the power to be one. If Kony2012 taught us anything, it's that people are more likely to do good when the act is public and requires nothing more than the click of a mouse. But is this initiative overly simplistic? Some organ donation experts said that sharing on Facebook is way different than joining the official registry, which is a legal declaration that you'll allow your organs to be donated without family consultation. "We do not want people to feel that all they have to do is put their decision to donate on Facebook," said Charlene R. Zettel, chief executive of Donate Life California, who wasn't sure whether a family would be able to legally challenge a Facebook organ sharing declaration. Facebook's feature leads to links to state online donor registries, but will users care enough to take the time to click through?
G/O Media may get a commission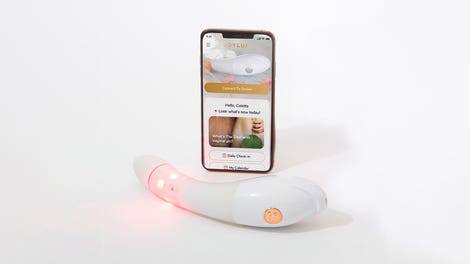 $50 Off
Joylux vFit Gold Device
It's pretty eerie to see "Add an Organ Donor" show up on your timeline, under a new tab called "Health and Wellness," no less, which also includes information on events such as getting glasses or contacts and losing weight. Another new tab called "Travels and Experiences" allows users to tell friends about new hobbies, instruments, languages, first words, kisses, tattoos, and piercings. It just feels inherently gross to encourage people to boast about donating a kidney just as they might list their baby's first steps or post photos of a home-cooked dinner.
But I can't think of a good reason why I shouldn't be able to sign up to be an organ donor with the same ease. It's a creepy reminder of mortality — and of the power Facebook has over our lives and our privacy — but it's hard to argue that the new endeavor won't make non-virtual life a hell of a lot better for organ donor recipients. "This is going to be an historic day in transplant," Dr. Cameron told the Times, adding that millions of people could become donors overnight. "The math will radically change, and we may well eliminate the problem."