Some clinics are now offering "mamm parties" in hopes of encouraging more women to get mammograms by luring them in with chocolate fountains, spa treatments, and a casual group atmosphere. Some women who've attended told ABC that the parties were "a great way to take the preconceived notion that a mammogram is a horrible, uncomfortable experience and make it into lovely evening," especially if you go with friends or co-workers.
But some doctors don't think mammoparties are such a great idea, given controversy about the age at which women should start getting yearly mammograms. The American Cancer Society and most others say it's 40, but the United States Preventive Services Task Force recommended last year that women should wait until 50 and only get them once every two years until about age 74 to save women unnecessary stress (and treatments) due to false positives — a suggestion some think is more economically motivated than anything else.
"It may be a good way to improve compliance and make having a mammogram more enjoyable but not everyone should be invited," assistant professor at Harvard Medical School Dr. Julie Silver said. "Not every woman needs a mammogram and they should only be done based on the appropriate guidelines." Silver said women would be better off getting mammograms at the doctor's office, instead, so they can "devise an exam schedule that makes the most sense for her age group and personal history."
In an ideal world, sure. But if women who otherwise put off getting mammograms because they're too busy or too nervous to think about breast cancer feel less anxious getting their breasts checked out in a casual and supportive environment complete with snacks and paraffin-wax hand treatments, then mamm parties sound like a realistic (and delicious) way to make sure more women take care of themselves.
G/O Media may get a commission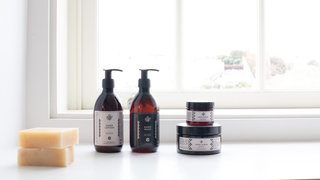 Exfoliate and Hydrate
The Handmade Soap Company
[ABC]
Image via PixelFractor/Shutterstock.