Much unlike many a magazine editor who recommends you buy all sorts of crap that they most likely got for free, your Jezebel staff doesn't get jack shit (other than books, unsolicited). And that's how it should be. But on our own time, in our personal lives, we still buy stuff. So this is Worth It, our daily recommendation of random things that we've actually spent our own money on. These are the things we buy regularly or really like, things we'd actually tell our friends about. And now we're telling you.
There comes a time in (almost) every person's life when he or she is faced with the harsh reality that one needs somewhere to sit, and the floor pillows or futon is no longer cutting it. And unless you are vehemently opposed to fairly priced modular furniture and or are willing to shell out more than a grand, there's a pretty good chance you'll go to IKEA. And if you do, I insist that you buy the Karlstad.
I have personally purchased three couches in my 31 years: A practically-obligatory post-college IKEA Ektorp and some random Pottery Barn sofa from Craigslist. But a few years later, when movers could not fit the Pottery Barn couch through my new apartment's ridiculously narrow hallways and door, I was forced to leave it on the sidewalk (I cried, though mostly for financial reasons). I needed a couch, and I needed one that I could actually get into my apartment. Enter the Karlstad.
Not all IKEA couches are created equal, literally: some of them you must assemble yourself. The Karlstad is one of these couches, which is exactly why I chose it — flat boxes meant that I would be able to get it past the front door of my tiny hovel. I wasn't expecting much from a couch that I had to put together myself, but I was wrong. The Karlstad is wonderful. It's comfortable (I've had many a pleasantly-surprised friend spend the night on it) and it looks good. With a little elbow grease, you can make it look even better — just replace the standard-issue IKEA legs with some nicer ones purchased elsewhere, or for extra cash, you can buy one with a sleek chrome frame. In the image at left, some geniuses also tufted the pillow and made the thing look downright fancy. But my sofa, as well as those of my two friends, is plain and simple, straight from the box, and still looks lovely.
G/O Media may get a commission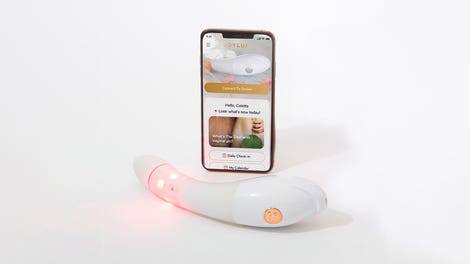 $50 Off
Joylux vFit Gold Device
I have now convinced two of my friends to buy Karlstadts, and I even helped them assemble it — if you're fluent in IKEA manuals, it's a breeze (I even assembled mine by myself; it involved some heavy lifting, but I managed). Both of my friends loved the final product. Of course, a lot of this has to do with which cover you choose. I recommend the Sivik Dark Grey (which both of my friends bought); when I purchased my couch, I initially dismissed it because I thought it looked denim-y. That was a mistake. I went with one of the Korndal fabrics, which is nubby — nice and soft, but it fades quickly and makes the couch look cheap (which it is, relatively speaking) compared to the other options. Choose a smooth fabric; if you're willing to avoid beige, a darker color (or white) will make it look that much less IKEAesque.
The Korndal is available in several fabrics and loveseat, sofa, and sectional sizes; cost varies accordingly. A white sofa is $399; the aforementioned Sivik dark grey sofa is $499; and I'm now a fan of the newer Isunda version for $599 — but it looks really awesome with a chrome frame, pictured above, priced at $749. Given that you'll presumably have this thing for at least a few years, it's a good deal at any price.
Karlstad Series, prices start at $399, at IKEA.
Worth It only features things we paid for ourselves and actually like. Don't send us stuff.