Much unlike many a magazine editor who recommends you buy all sorts of crap that they most likely got for free, your Jezebel staff doesn't get jack shit (other than books, unsolicited). And that's how it should be. But on our own time, in our personal lives, we still buy stuff. So this is Worth It, our daily recommendation of random things that we've actually spent our own money on. These are the things we buy regularly or really like, things we'd actually tell our friends about. And now we're telling you.
One evening I was hanging out with an old ladyfriend, someone whose hair I'm pretty familiar and have regularly seen for over a decade. But on this particularly evening, it looked really good. Super shiny and bouncy. Had she had a salon treatment or something? Nope. "It's the Twin Turbo!" she declared, beaming. I had no idea what she was talking about until she explained that she had shelled out for a professional level hairdryer.
I have a lot of hair, but it's very fine; with my drugstore Conair, it takes about 8 minutes to go from sopping wet to dry enough. But because my hair is fine and doesn't take forever to dry, it is easily shaped by how I dry it — all it takes is 5 seconds of direct heat for my long bangs to be stubbornly committed to a certain direction or shape until I wash again. Because of this, blowdrying is kind of stressful for me. Why would I spend more than $20 on a tool I hate? But after one particularly bad dryer day, I caved. Fed up with my Conair and remembering the joy my friend took in her Twin Turbo, I took the plunge and went into Ricky's. The professional-grade hairdryers can be really expensive; I saw ones that neared the $200 mark. My friend's model, the Twin Turbo 2800, was close to $100 in-store. So after consulting with a sales clerk, I bought a BaByliss 2800 — another pro brand that happened to be on sale for $50. Hell if I know the difference between the two. But now I do know the difference between a professional-grade hair dryer the drugstore models I'd used for over 20 years.
It wasn't until I started using this dryer that I realized my Conair, even on the highest settings, was just blowing around lukewarm air. But not so with my new toy. The heat from my BaByliss is not too much to tolerate, but it's far stronger than anything I'd used before. If I screw up my bangs, this thing is powerful enough to fix them. Whether I use a round or flat brush or even just my fingers, my hair is shinier with more volume. It's smooth, even during the wintery static season. Dare I say, it's bouncy! The BaByliss has cut my drying time in half, easily. The only downside is that it's a little heavy and the switches are awkwardly placed, but I've gotten used to it. Other brands may not have the switch issue, but of all the brands I picked up at the store, the BaByliss 2800 was the lightest.
G/O Media may get a commission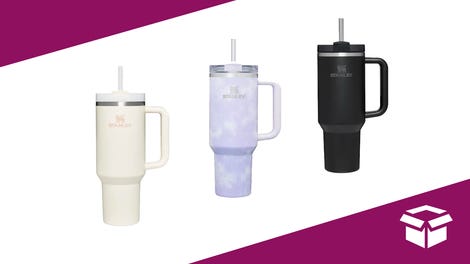 Up to 45% off
Stanley Cup Sale
A super-powered dryer is an indulgence, yes. But it's made my hair routine so much nicer that, when it comes to the stuff I use every day, it just might be the best upgrade I've ever made.
BaByliss Pro Porcelain Ceramic 2000-Watt Dryer, $59.95 at Amazon.
Twin Turbo 2800, $85.95 at Amazon.
Worth It only features things we paid for ourselves and actually like. Don't send us stuff.