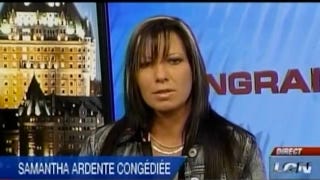 In a repeat of a stateside incident, a Canadian school secretary had to leave her job after a student outed her as a former porn star. And the student in question sounds like the worst kid ever.
According to the NY Daily News, the fourteen-year-old Quebec boy discovered that his secretary was the porn star Samantha Ardente, who appeared in such films as Serial Abusers 2. So he demanded that she give him a blow job in exchange for keeping her secret — and when she refused, he outed her. Oh, and he also made a fake Facebook page in her name with pictures of her in her underwear. The student was suspended, but the secretary was fired.
As I've said before (in a similar case where a St. Louis teacher left her job after a student recognized her from adult movies), the idea that anyone who appears in porn is unfit to be around kids is a misguided and narrow-minded one. And here's a tip for students: if you find out your teacher, or your school secretary, used to be a porn star, feel free to enjoy this fact on your own time. Giggle about it with your friends. Whatever. But if you use your knowledge as an opportunity to threaten and sexually harass her, you are an asshole. And you are a way worse influence on your peers than she ever was.
Samantha Ardente, High School Secretary-Turned Porn Star, Outed By Student, Fired By School [NY Daily News]