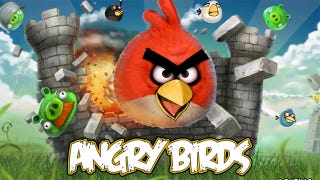 Women are gaining more recognition in the video game industry, thanks to the rise in games played on mobile devices. According to The Street, while traditional gaming remains dominated by men, a report from the analytics firm Flurry found more than half of mobile players are women.
The fact that we're awesome at Angry Birds and Fruit Ninja probably won't do much to improve our street cred in the gaming community, but in general games played on mobile devices are becoming more important in the industry. Sales of console games were down 5% in 2010, while mobile gaming is constantly growing, and is expected to be a $15 billion industry by 2015.
On average, ladies who play games spend more than 25 minutes per day tapping away on their phones, which is more time than they spend watching primetime TV. (We'd be interested to see the data on this statistic, as that isn't even a full Real Housewives episode.) Advertisers are taking note, and hopefully this time they'll realize women like playing video games, even if they don't involve pink sparkles and competitive shopping.
Female Gamers Gaining an Edge [The Street]