Last night in New York, Time magazine hosted a reception honoring its self-selected 100 Most Influential people of the year and, I have to say, the women in attendance were a cool bunch: Arianna Huffington, Martha Stewart, Angelica Huston, Wendy Kopp, Tina Fey, Madeeha Hasan Odhaib, Elizabeth Gilbert, and others. And since today's my last day as a full-time Jezebel, I've decided to focus less on the clothes and more on what they've accomplished. On the whole, these are women sans stylists: They're all Good in my book! (Though Wendi Deng's dress is a little unforgivable.)




The Good:

Amy Poehler: Actress, comedienne, Christian Siriano copycat.

G/O Media may get a commission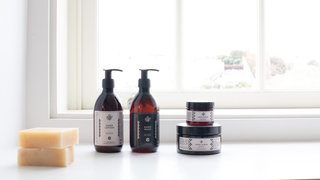 Exfoliate and Hydrate
The Handmade Soap Company
I can only hope that Angelica Huston was invited for her amazing turn in The Darjeeling Limited as a mother/Buddhist nun who doesn't know what to talk about when we talk about love.

Ann Moore, left, is the CEO of Time, Inc. Indra Nooyi, right, is the CEO of Pepsi Co. Donatella Versace would be happy, surely, to see women in power wearing dresses.

Arianna Huffington: She writes books, she runs blogs, she wears ballgowns.

Elizabeth Gilbert, author of Eat, Pray, Love, which was apparently a little smug, highly readable and very "influential." (I hate that word.)

Georgina Chapman designs for Marchesa and married Harvey Weinstein. I'm not sure if these things, independently or together, make her a person of merit. But what do I know?

Kristen Wiig of SNL: Further proof that women are funny.

Madeeha Hasan Odhaib is the "Mother Theresa of Baghdad." I wonder if George Bush, or even fellow attendee John McCain, even care.

I love Martha Stewart: She runs an empire and still manages to can her own preserves. Also, she does it in heels.

Mary Lou Jepsen founded Pixel Qi and was also the founding Chief Technology Officer of One Laptop Per Child, which strives to deliver mesh-networked laptops to children in developing countries.

Nancy Brinker, who founded Susan G. Komen for the Cure, is a breast cancer survivor and mother, and was also appointed to the position of Chief of Protocol by President Bush.

Rupert Murdoch and Wendi Deng: The dark overlord and his whipsmart wife.

Suzanne Vega: She sings.

Sure Baby Mama is supposed to be the anti-Knocked Up or whatever, but more importantly, Tina Fey has brought Liz Lemon and Tracey Jordan into our lives.

Did you participate in Teach for America? Or have eighty gajilliion friends who did? Thank Wendy Kopp, who founded the program, for the experience.

Ziyi Zhang: She acts. Also I am in awe of her bone structure.
[Images via Getty.]