Although G.I. Joe was number one at the box office over the weekend with $56.2 million, Julie & Julia, which came in at number two (and $20.1 million) can be considered a total success story. A few reasons why:
First, the numbers: While G.I. Joe made $56.2 million, according to Time, it cost $175 million to produce and more than $100 million to market worldwide. Will the studio recoup those costs?
On the other hand, Julie & Julia cost $38 million to make. And Time's Richard Corliss notes that the Julia Child-oriented movie got loads of free publicity: "Nora Ephron, the movie's writer-director, was the subject of 15 New York Times articles in the past month."
Next, Women & Hollywood's Melissa Silverstein offers some other numbers for perspective:
Nora Ephron's Sleepless in Seattle opened in 1993 on over 1700 screens to a approx $17 million gross. It earned $126 million domestically. You've Got Mail opened in 1998 on over 2600 screens and earned a little over $18 million. Film went on to earn $115 million domestically.
And from Meryl Streep. The Devil Wears Prada opened in 2006 on 2,847 screens and grossed $27 million. The total domestic gross was $124 million. This film made more overseas with a total box office cum of $326 million. Mamma Mia opened on over 2900 screens and grossed approx $27 million on opening weekend. The domestic gross topped out at $144 million and the worldwide total is an astounding $600 million.
These women make hits.
But even more noteworthy is the fact that the true star of Julie & Julia is not a slinky young ingenue (coughMeganFoxcough) but 60-year-old Meryl Streep. Corliss writes: "With The Devil Wears Prada and Mamma Mia! both earning well over $100 million domestic, and her new picture on its way to hit status, she is arguably the movie's top female star. And she's 60. That's never happened in Hollywood history." (Yet who's on Vogue's August issue? G.I. Joe's Sienna Miller.)
Lastly, and maybe most important: Julie & Julia is a movie about two women whose romantic lives are secondary in the plot. While other comedies focus on beaus and babies, the movie manages to acknowledge that women have other hopes, dreams, desires and things to talk about. Which is, of course, something to savor.
Box Office Weekend: G.I. Just-OK, Julia Delicious [Time]
Julie & Julia By The Numbers [Women & Hollywood]
G/O Media may get a commission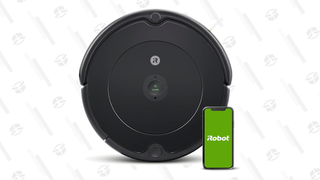 35% Off Black Friday Deal
iRobot Roomba 694 Robot Vacuum
Sony Pictures" />