We haven't noticed many more pink electronics on the market, yet amazingly, it seems women buy more tech products than men. While in the past companies have tried to market products to women by making them purse shaped and pointing out how they can be used to look up diet tips, it turns out women are buying electronics even though they have no stereotypical lady features.
Ana Gasteyer Satirizes the Girl Boss in 'American Auto'
Mashable reports that in a survey conducted late last year, Parks Associates asked 2,000 adult consumers about what products they were planning to buy before 2012. In general women were more likely to purchase electronics, with 18% expressing interest in a tablet, 20% saying they wanted a laptop, and 20% looking at smartphones. As for the men, 15% wanted a tablet, 14% planned to buy laptops, and 17% wanted smartphones. There was only one product that interested more men than women: Flat screen LCD TVs. 19% of men said they were shopping for the TVs compared to 17% of women.
The study also found that women are engaging with technology more than men across the board. In 2012, women bought an average of 4.7 electronic devices compared to 4.2 products for men. Plus, once women buy tech products they tend to use them more heavily. Women are more likley to watch movies online, download music, and play games on Facebook.
G/O Media may get a commission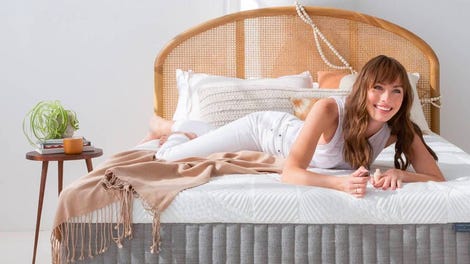 Sleep Sale
Sleep Sale - Brentwood Home
Unfortunately, it doesn't seem that the message being taken from this study is that women enjoy technology just as much as men, if not more. Jill Braff, executive VP of digital commerce for HSN, noted that their most popular tech item is a purple scanner. "It's not just about black, white and gray anymore," Braff said. "It's also not just about features – it's about simplicity, the seamless use of technology and how technology fits into your lifestyle." It's about how the technology can change your life — and it might come in pink too!
Stereotype Debunked: Women Buy More Technology Than Men [Mashable]
Earlier: Memorex Launches Electronics Line By Women, For Morons
Dell Discovers Ladies Use Computers For More Than Diet Tips
Image via Image via Lasse Kristensen/Shutterstock.