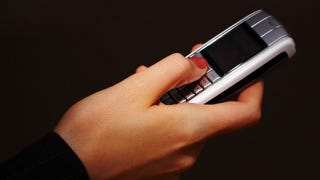 Cell phones can provide you with the opportunity to pretend that you're texting or taking an important call when those professional street botherers try to sell you hair salon packages. But did you know they can also stop bullets?
A Colorado woman learned just that last night. Reports KKTV,
Officers were dispatched to the Southpointe Apartments on the 3900 block of Lakehurst Drive just before 11 p.m. on several reports of shots fired in the area. Police found the woman shortly after arriving on scene, who told officers she was standing outside building 3815 when her phone, which she was carrying in her pants pocket, was struck by a bullet. She sustained no injuries.
I guess this means that body armor made entirely from cell phones would make the wearer invincible. Get on it, Etsy.
Cell Phone Blocks Bullets [KKTV]
Image via Alias Studiot Oy/Shutterstock