A woman won a lawsuit filed against a radio station who publicly misidentified her as an adult film star.
In her suit, Ashley Patton accused two radio station DJs at 96.5 The Buzz in Kansas City, Kansas of calling her a porn star (which she is not) live on the air. Patton said DJs Afentra (Bandokoudis) and Danny Boi (Daniel Terreros) asked listeners of their "Afentra's Big Fat Morning Buzz" show to call in and tell them names of local porn stars. Via KSHB:
On the morning of April 20, 2012, two individuals, using separate telephone numbers, texted the name "Ashley Patton" to the 96.5 "The Buzz" radio station text line. A text message sent from ***-***-**** at 7:26:52 a.m. read "Ashley Patton Olathe south. 2007." This text message was sent by Christopher Bradley. A text message from ***-***-**** at 7:28:33 a.m. read "Ashley pattons a whore!!!!" This text message was sent from a phone number used by Cameron Sharp, and the parties agree was not read aloud on the air. Christopher Bradley and Cameron Sharp have no connection to defendant other than the fact that they listen to the station and "follow" the station on social media.
Oh my god, please someone let shock jock dudebro morning shows die a slow terrible death already, please GOD. After they got the text message, Danny Boi Googled and found an adult film actress with a similar name, Ashley Payton. He said ""Ashley Patton, Olathe South. Let's Google this chick." Here's how the on air chat went down:
"Danny Boi: "Oh God, that poor girl. Why would she [go into] to that kind of pornography? "

Afentra: "Let me see. Is this the one from Olathe South?"

Danny Boi: "Wrath." (Laughs)"
According to KSHB, they announced her high school as well and put her name in the "unofficial local porn star list" on their website. Patton sued the station for false light invasion of privacy and negligent supervision and got PAID.
Patton received $250,000 for actual damages and $750,000 in punitive damages. During jury deliberations, attorneys for both sides agreed to a high-low settlement, which means Entercom will not appeal the verdict and pay the award in 45 days.
G/O Media may get a commission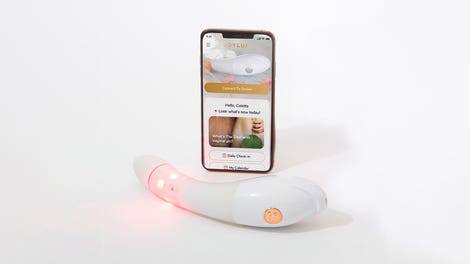 $50 Off
Joylux vFit Gold Device
"I was hoping for their verdict," Patton said. "I am surprised by the amount. It will make stations think twice about what they put on the air."
Image via