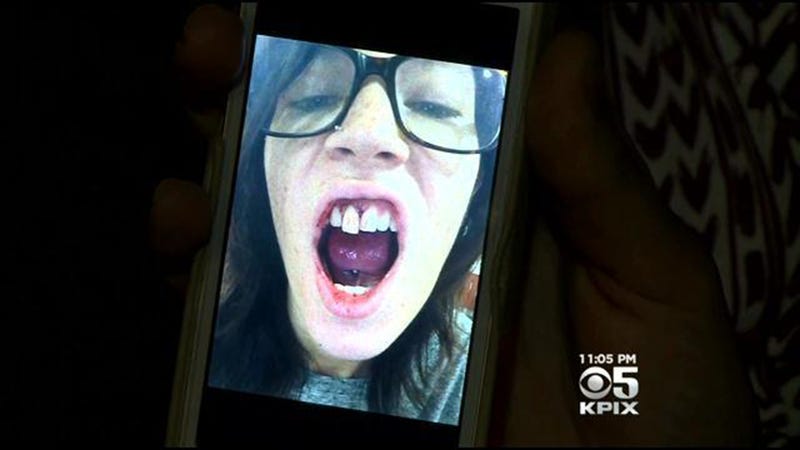 If you've ever been to Colma, California, you know that it's a sleepy little townlet that has more dead people than living ones, an excellent Chipotle and a Nordstrom Rack, that until now, has just been a great place for my dad to buy Juicy Couture. Not anymore. Now there's just bloodshed.
Natalie Bree Hajek-Richardson was apparently just minding her own business while waiting to check out at "The Rack" as people in the know call it, when she noticed that there was a child throwing a tantrum nearby. And something about this didn't sit right with Hajek-Richardson. Possibly, it was the combination of the child's screaming and the '90s pop hits the store plays. Possibly, it was the fact that Hajek-Richardson had probably just had a horrifying experience in that particular Nordstrom Rack's dressing rooms (They are awful. Can I get some corroboration?). Possibly, Hajek-Richardson knew that she was about to be assaulted by the cashier's sales itch about the Nordstrom card that isn't that great a deal and takes 20 minutes to sign up for even though they tell you it won't. Whatever her reasoning, Hajek-Richardson turned to the child's mother and asked her to calm the child. And when that didn't work, she told her to go to hell.
From CBS Bay Area:
"She came to the side of me and told me not to tell her child what to do. And I told her that I didn't ask your child what to do, I asked you very nicely to calm down your child just a little bit," Hajek-Richardson recalled.

Hajek-Richardson said she then told the mom off. "I told her to go to hell and she told me I'll see you there," she said.
Excellent adult behavior from both sides. I get that you don't want to hear kids being hella (my NorCal is coming out) loud or be told that your kids are ever doing anything wrong, but what about just letting things go? Buy your discounted Seven For All Mankind jeans and maybe stop at JoAnn Fabric next door for a decorative holiday wreath and don't follow anyone to the parking lot to knock out their teeth.
Honestly, it perplexes me that adults — adults with children in tow — would ever think of hitting anyone else for saying something that they didn't like, but here we are, in a Nordstrom Rack parking lot with an angry woman punching another angry woman and imparting some important lessons to her offspring.
The unknown woman punched Hajek-Richardson in the face twice (in the surveillance footage, you can see it happen) and left her with bruises and at least three teeth that may have to be removed. Police are looking for the attacker, but it's likely they won't find her, considering how blurry the footage is.
If they do find her, however, it might be helpful if she got one of those talks about how we use our words not our fists when people to tell us to go to hell. Also, not to encourage bad behavior or anything, but a well-placed insult often works much better than a punch. Also, I am never shopping in Colma again (or visiting my grandfathers at the cemetary. It's dangerous there.)
Image via CBS Bay Area