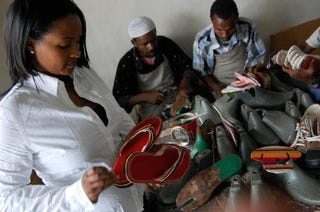 The Ethiopian brand "SoleRebels", owned by Bethlehem Tilahun Alemu, is rapidly becoming a model for socially responsible companies around the globe.
Even the name of the company is mired in history and politics:
The brand gets its name from the type of footwear favoured by Ethiopian rebel fighters in the country's recent troubled past.

Africa's second most populous country after Nigeria, with nearly 80 million inhabitants, Ethiopia is also one of the continent's poorest nations, with bouts of drought, famine, the overthrow of a junta in 1991 and a bloody border war with Eritrea in the 1990s that left 80,000 dead exacerbating economic woes.

"When I was young we were at war and rebels wearing that kind of sandals with used tyre soles were giving hope to people," said the youthful shoemaker and mother of two.
The shoes, made from used tires, organic cotton, and locally sourced leather, are constructed by hand, and the factory exports hundreds of shoes and sandals daily to other parts of the continent. While SoleRebel is lightly marketing their wares, they are sold at places like Urban Outfitters and Whole Foods. In addition to employing people, Alemu also encourages her employees to adapt the skills they learn at SoleRebels to other start other businesses. Paying a fair wage is also a cornerstone of her success, with SoleRebel employees making nearly four times the country's average monthly salary.
"I noted there was a lot of talented people but no opportunity for work. I grew up in this community, I know how they suffer... When we say we want to change people's lives, we have the obligation to give them a good salary."
Ethiopian cobbler creating African Nike with tyres, fabric [The Independent]
Sole Rebel [Eco Fashion World]