These are rough economic times, but thankfully a young woman has developed a way to get strangers to cover your entire food budget, including the occasional bottle of $200 champagne. All you need to do is aggressively court men on Match.com and set up a complex dinner date schedule that keeps you well-fed throughout the week. It also helps if you have few compunctions about leading the guys on, and don't mind internet commenters referring to you by a variety of sexual slurs.
23-year-old Jessica Sporty tells Business Insider that though her salary was $45K, she simply wasn't able to make it in New York, and "she needed at least an extra $500 a month and sometimes $1,000 to pay her credit card bills and afford her $1,475 a month apartment in Murray Hill." Rather than shipping out to a less ritzy borough and learning to subsist on ramen noodles and rice and beans, she found that she could do nearly all of her eating for free and keep herself out of debt thanks to men she met on Match.com.
Business Insider breaks down her controversial meal plan:
Sporty went from easily spending $500 a month on dinners alone to having someone else dole out an average of $60-plus per night. She also stopped eating lunch and opted for a light breakfast to save even more.

According to our calculations, Sporty made over $1,200 a month.

Match.com does require a $50 monthly subscription, but the dates more than made up for the entry price.

"I mean, a guy buys me three drinks at $15 a pop and that right there made up for my Match fee," said Sporty.
Soon Sporty's roommates joined in and the women decided to make their formula more scientific by making up spreadsheets about their dates including names, photos, and information from their online profiles. They also limited themselves to online five meals with each suitor. Now Sporty says she's given up on her plan because, "I needed my sleep and I was done playing the game." The online dating scene was "exhausting" — plus, she now has a boyfriend.
Naturally, in just a few hours Sporty's tactics caused a shitstorm among online commenters, with Business Insider noting that they've "disabled comments on this post because they were getting out of control." However, it's easy to suss out the mob's reaction from New York Observer describing her method as "food hooking," and Gothamist readers calling her "skank" and "dirty whore."
G/O Media may get a commission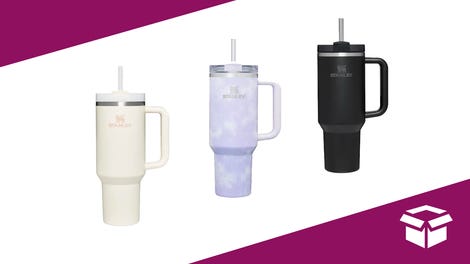 Up to 45% off
Stanley Cup Sale
Sporty certainly isn't the first person who's been more interested in the idea of going out to dinner than the person they'll be splitting an appetizer with. It's ironic that people are attacking Sporty for her sexual mores when it seems that what they're really upset about is that she violated the tacit dating code that says a woman should be up for some sexual favors if a man buys her a few meals. That's a truly disgusting idea, but Sporty isn't exactly scoring one for women's rights. The callousness of her plan plays into the stereotype that ladies are all conniving gold-diggers — though people have no right to call her names even if she slept with every one of those dudes.
It's wrong to call her a "skank," but she is a jerk. While it seems she was dating a lot off Wall Street types we're not supposed to feel sorry for, she repeatedly lied to the dudes. They aren't entitled to sex, but it still isn't cool to make anyone believe that you're potentially interested in a relationship when all you're really after is free food and booze.
This Young Woman Scored $1,200 A Month In Fancy Dinners Using Match.com [Business Insider]
Business Insider Introduces Novel Concept Of Food Hooking [New York Observer]
Recession Tip: Make Match.com Suckers Pay For Your Expensive Dinners [Gothamist]
Image via OtnaYdur/Shutterstock.