For Sarah McKinley of Blanchard, Oklahoma the past few weeks have been unbelievably harrowing. First, the 18-year-old's husband died of lung cancer on Christmas. Then on New Year's eve two men tried to break in her house while she was home alone with her infant son. One of the men made it through her front door, and after checking with a 911 operator to make sure it was legal, McKinley shot and killed him.
Though McKinley didn't piece things together until after the shooting, she'd had several strange run-ins with 24-year-old Justin Shane Martin. According to CBS News, her mother says that about two years ago, she noticed Martin following McKinley around at a rodeo. Recently the two bumped into each other at a convenience store, and on the night of her husband's funeral he showed up to her door and introduced himself as a neighbor, but McKinley didn't let him in. In the past month McKinley had started locking her doors because she thought someone had moved things around in her home, but her mother thought she was imagining things due to the stress of her husband's illness.
On Saturday he returned to the house with 29-year-old Dustin Louis Stewart and the two men tried to get in her front and back door, which were locked. McKinley barricaded the front door with her sofa and went to her bedroom, ABC News reports. There she put a bottle in her son's mouth, found her two guns, and called 911. She was on the line for 21 minutes as the men continued to try to get in the house, and at one point she asked the dispatcher, "I've got two guns in my hand — is it okay to shoot him if he comes in this door?" The dispatcher said, "I can't tell you that you can do that but you do what you have to do to protect your baby." When Martin finally made it through the front door with a hunting knife in his hand, McKinley shot him in the chest, killing him. Stewart ran when he heard the gun shot and police found Martin slumped over the couch.
McKinley said after the incident:
I wouldn't have done it, but it was my son ... It's not an easy decision to make, but it was either going to be him or my son. And it wasn't going to be my son. There's nothing more dangerous than a woman with a child.
G/O Media may get a commission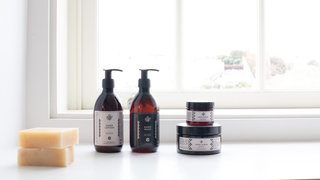 Exfoliate and Hydrate
The Handmade Soap Company
Stewart turned himself in and is facing a first-degree felony murder charge. Prosecutors say that even though he didn't shoot the gun, he was charged because the death occured during the burglary. Stewart says he and Martin took prescription painkillers before the incident and they targeted the house because they knew McKinley's husband died of cancer and might have pain medication. Authorities say McKinley clearly acted in self-defense, and she won't be charged with a crime.
Okla. Teen Mom Asks 911 For Permission, Fatally Shoots Intruder On New Year's Eve [CBS News]
Okla. Woman Shoots, Kills Intruder: 911 Operators Say It's OK To Shoot [ABC News]
Alleged Accomplice In Blanchard Home Invasion Faces Murder Charge [News OK]
Court Hearing In Oklahoma 911 Shooting Case [CNN]