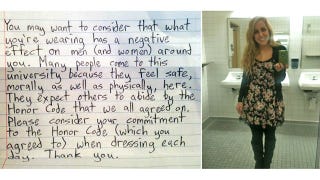 Earlier this week on Valentine's Day, Brigham Young University student Brittany Molina was minding her own business on campus when a young man pressed a note into her hand. Note passing on Valentine's Day! So romantic, right? Unfortunately not as the note Brittany received was actually a request. A request for her to stop dressing like such an offensive slut.
"I thought he was giving me a love note," she said. "Turns out..."
The note read:
You may want to consider that what you're wearing has a negative effect on men (and women) around you. Many people come to this university because they feel safe, morally as well as physically, here. They expect others to abide by the Honor Code that we all agreed on. Please consider your commitment to the Honor Code (which you agreed to) when dressing each day. Thank you.
Aw, the poor boy felt threatened by Molina's whorish outfit. And what was the brazen slattern wearing? A cardigan, a modest mini dress and opaque tights. There's an accompanying photo as evidence of her ensemble (click to enlarge), but don't look too long— just staring will probably give you syphillis.
BYU student scolded for her attire in Valentine's note [The Salt Lake Tribune]