In yet another horrific case of women killing pregnant women in order to pass a baby of as their own, 27-year-old Korena Roberts has been charged with the murder of a mother and her child.
Police say that Roberts contacted emergency responders to report a newborn baby with breathing troubles; the child later died at the hospital and it was discovered that Roberts, who claimed she had just given birth to the child, was not the baby's birth mother. A search of Roberts' Hillsboro, Oregon home revealed that the actual mother of the child, 21-year-old Heather Megan Snively, had been murdered and shoved into a crawl space.
It gets even more disturbing: Roberts allegedly lured Snively to her home via Craigslist, where she posted an ad looking to swap baby clothes with fellow "pregnant" women. Snively, who had used Craigslist successfully in the past, reportedly communicated with Roberts online for a few weeks before Roberts' picked her up last week for the "clothes swapping" she'd promised. Roberts is currently being held without bail for Snively's murder, and could also face murder charges for the death of Snively's son.
The story is horrifyingly familiar: in 2004, Lisa Montgomery was charged with murdering Bobbie Jo Stinnett after she cut Stinnett's child out of her womb and left her to bleed to death. Montgomery later tried to pass the child off as her own, but was quickly caught and sentenced to death in October, 2007. Stinnett's daughter, Victoria, is now back with Stinnett's family.
In 2008, Andrea Curry-Demus killed 18-year-old Kia Johnson by suffocating her with a plastic bag and cutting her baby out of her womb. Johnson's son survived, and Curry-Demus, who, like the others, attempted to pass the child off as her own, but was caught and charged with murder. She has not faced a jury yet, and remains hospitalized and considered unfit to stand trial at this time.
G/O Media may get a commission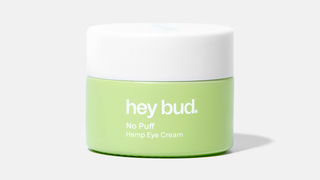 15% off
Hey Bud - No Puff Hemp Eye Cream
All three women seem to have the same M.O.: they all discussed their pregnancies (none of them were pregnant), all killed young mothers in particularly heinous ways, and all were caught in their own lies after trying to pass the children off as their own, which leads one to believe that these women were so caught in their own delusions that they actually believed that the children were theirs. The disregard for the lives of other women, and their rights to be mothers, is an incredibly disturbing mindset that brings in to question our strange culture and the emphasis on motherhood that leads some women to feel like they have the right to take one life in order to have the opportunity to raise another.
Woman Accused Of Killing To Steal Baby Remains Hospitalized [Post-Gazette]
Woman Charged In Death Of Eviscerated Teen [CNN]
Jury: Execution In Stolen-Baby Case [USAToday]
Slain Washington County Woman Met Accused Killer On Craigslist, Planned To Exchange Baby Clothes [OregonLive]
Woman Charged In Death Of Pregnant Woman [AP]