A woman says she was punched in the face after she stood up to a man groping her in the crowd at a UK carnival. And her injuries — pictured below — are not for the faint-hearted.
Mary Brandon just wanted to enjoy the Notting Hill Carnival, like most people. Unfortunately, because she dared to commit the crime of Being a Woman in Public, she couldn't do that without some asshole deciding her body was his to grab and fondle. When Brandon stood up to her assailant and demanded he treat her like an actual human being and not some piece of unripened fruit he was checking out at the market, this is how he responded:
She spent nine hours being treated for her injuries. Again, this is a woman who was being groped by a stranger in a crowd and this is what he did to her when she dared challenge his grotesque urge to violate her.
Following the attack, Brandon posted the image of her injuries to her Facebook page, according to the Evening Standard.
"At Notting Hill Carnival yesterday a man in the crowd grabbed my arse," she wrote. "When I told him not to he did it again. I pushed him away, exercising my right to tell a man to stop touching my body without my permission, so he took a swing at me and punched me in the face."

"Carnival is supposed to be about community and good vibes. I wanted to have a good time but instead I spent 9 hours in A&E because of this coward. I'm so pissed off that this man thought it was OK to hit me because I said no to him."

Ms Brandon, said women "should be able to leave the house without fear of being sexually assaulted".

Anyone who thinks it is acceptable to be violent towards women should stay away from Carnival next year, she wrote on her publicly accessible Facebook page.
G/O Media may get a commission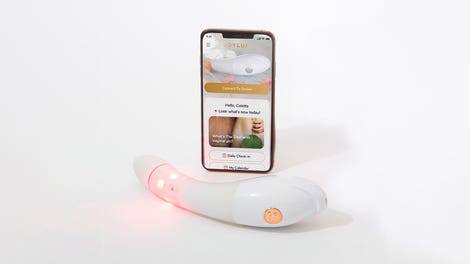 $50 Off
Joylux vFit Gold Device
Brandon's photo and message quickly went viral. As expected, it was met with a lot of support and of course, the typical victim-blaming chorus of "maybe it would have been better if you just hadn't done anything" type of crap. Here's what she had to say to that, via The Independent:
"I can honestly say I will always stand up to someone who thinks they can get away with this behaviour. I'd take a punch again from this loser or any other loser who thinks it's OK to treat women like this."
Other women have since come forward to share similar stories of being groped at the Notting Hill Carnival and other festivals. One of the women on Brandon's Facebook page shared this depressingly familiar story:
On my way home from carnival an amazing woman told me she'd had a broken bottle held up to her face when she'd yelled at a man for grabbing her friends boobs. I am so angry that these men take space and freedoms away from us to feed their own pathetic egos. Keep standing up for yourself, you did an amazing job.
Police are now investigating the incident involving Brandon. GOOD.
Images via Mary Brandon Facebook/Shutterstock