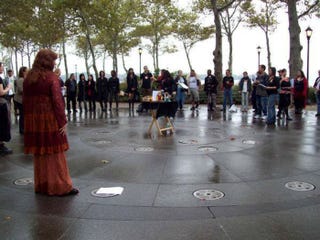 A community board that oversees Astor Park in New York City has decided they don't want witches to hold an event there.
The witches from the Wiccan Family Temple wanted to have a fundraiser in the form of a fair with music and other fun-sounding witch stuff, like tarot readings, crystal vendors, cauldrons and more. They are trying to raise money to build a school and a permanent place of worship. But a committee (possibly made up of clandestine werewolves plotting against the witches) turned down their application for the event, according to The New York Observer:
But the chairman of Community Board 2′s Sidewalks and Street Activity Committee Maury Schott told DNAinfo that the organization had to prove that the proposed street fair was "indigenous" to the street between Broadway and Lafayette, although he could not explain what that meant.
"We are a pagan temple," Starr Ravenhawk, the founder and president of the Wiccan group, said at last Thursday night's meeting. "We belong everywhere in Manhattan because we have and hold our services everywhere in Manhattan."
There's still hope—the Street Activity Permit Office actually has the final say. Last year, the granted WitchesFest USA a permit without the community board's recommendation. So good luck, witches!
Image via Wiccan Family Temple Facebook.