A Lutheran school in Baraboo, Wisconsin gets federal funding for things like its free lunch and transportation programs. It also says it has the right to discipline and expel students who are gay or transgender. The school's principal admitted in a letter to parents that he can't outright refuse admission to students "choosing an outwardly sinful lifestyle," but he'll settle for the next best thing.
This fun exercise in Christian brotherly love and tolerance by St. John's Lutheran School, which teaches kindergarten through eighth grade, was reported by the Baraboo News Republic, who are mainly concerned with the fact that it's probably illegal.
Principal Craig Breitkreutz wrote a letter to parents in February, requiring them to submit birth certificates for their children and sign a new handbook with some fascinatingly intolerant rules. From the Republic:
The birth certificate allows the school to know the child's born gender, and the handbook agreement — which apparently was recommended by the Wisconsin Evangelical Lutheran Synod — lists discretions for which a student can be disciplined and expelled, including homosexuality.

Because the school receives federal funds for its lunch program, transportation and through the No Child Left Behind program, it must comply with civil rights laws, Breitkreutz wrote. That means it can't deny entry to protected classes, such as homosexual and transgender students.
In his letter, Breitkreutz tells parents he's working to "protect the truths of the Scripture we hold so dear." Not the bit about loving your neighbor as yourself, just the part about punishing gay and trans kids. Breitkreutz also admits—in writing—that the school finds itself in a bit of a legal pickle trying to enforce a discriminatory law. A screenshot, again via the Republic:
G/O Media may get a commission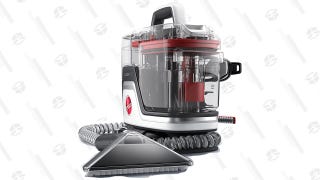 Save $10
Hoover CleanSlate Plus Carpet & Upholstery Cleaner
"This is where things get a bit complicated," indeed. Breitkreutz told the newspaper "I didn't mean any kind of move around, or to manipulate the law or anything like that." Surely not. He also said he hasn't yet had to expel a gay or trans kid, and would rather "patiently instruct" the child should one come along.
The Freedom From Religion Foundation, which advocates for separation of church and state caught wind of the school's policies and filed a complaint with the U.S. Department of Agriculture, who oversee free and reduced lunch program funding. A staff attorney with the FFRF told Channel 3000 the school should "forego the federal subsidy it's getting" if they insist on a discriminatory policy. The USDA has opened an investigation into the school's compliance with federal law.
---
Screenshot via YouTube/Channel 3000