For Elle UK's July issue, writer/director Rebecca Miller interviewed Winona Ryder, who stars in Miller's upcoming film, The Private Lives of Pippa Lee. As Miller writes, "I feel like I grew up with Winona Ryder without meeting her." Don't we all?
Something about the actress (who is now 37) seems eternally youthful, but interestingly, she didn't have a very happy childhood. Ryder tells Miller she was bullied quite often:

"I'd just seen Bugsy Malone and we were really poor," she says. "We only shopped at the Salvation Army, and I would get these three-piece, 1970s little boy suits. I had really short hair, and the third day of seventh grade, these kids basically jumped me in the hall because they thought I was a gay boy, and they roughed me up… I think when that happened, I kind of went into a movie in my head because I couldn't deal with what was happening."
Is it the ability to escape with her mind that makes her such a versatile actress? Even after she was in Beetlejuice, she suffered from being terrorized, in high school: "Kids would say, 'You're a witch, you're creepy, you're crazy.' I was in the number-one movie in the country and I was still being bullied in school."
Even though this piece doesn't touch on her shoplifting, you do get a little bit of insight into Winona's psyche — when talking about basing her Pippa Lee character on someone she used to know, she says: "In this day and age with antidepressants and anti-anxiety drugs and diagnoses, there's so much to blame your problems on. Everybody has a disorder of some sort." She also admits she had an "extra-large breakdown" when she was 20. "I had just done Dracula and Edward Scissorhands. I had just had my first real break-up, the first heartbreak. And I think it was really ironic because, like, everybody else just thought I had everything in the world, you know, I had no reason to be depressed, everything was sort of at its peak, but inside I was completely lost."
G/O Media may get a commission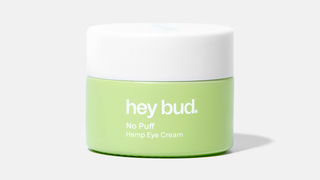 15% off
Hey Bud - No Puff Hemp Eye Cream
Yet, Winona has found inspiration in some of her fellow actors:
I worked with Meryl Streep on The House of the Spirits. I always thought actors had to be really depressed or moody or anguished to be great, but she was completely fine and had her family and came to work and did an amazing job and she wasn't that way. I remember that being a really big deal to me. And I was like, 'Wow, I can actually be happy and be good at the same time!' Because you go through that thing, especially as a young actor, when you think you have to make yourself miserable to play misery.
But in some ways, though she played a popular girl in Heathers, Winona has always been a sort of an outsider-type, the original, whom all the other manic pixie dream girls try to copy, but whose quirkiness can also be dark. That's why it makes perfect sense when she says:
I thought it was cooler to be interesting than to be pretty. I must have got that from my parents, who felt strongly about being an individual and being your own person and that looks aren't everything. I always knew that I wasn't, you know, beautiful. I never wanted to be beautiful, I never wanted to be a cheerleader.
Winona Ryder Is Back [Elle Uk]