The truth is, we're probably going cram all kinds of delicious foodstuffs in our mouths and bellies tomorrow. And flipping through the Williams-Sonoma "Holiday Entertaining" catalog just gets us all excited: Between the farm-fresh cheese, the pot pies, the mouth-watering meats and the gorgeous cakes, it's like a four-course meal — for the peepers. The appetizers begin after the jump.

The "American Farmstead cheese collection" includes Marieke Gouda, Vermont Ayr, La Fleurie and Capriole O'Banon. Whatever that means. Looks delicious. Also not bad? The sheep. And the dude.

Hmm, a new Thanksgiving tradition? Mini empanadas seem like a great idea, all of a sudden. So do bacon-wrapped dates. And phyllo-wrapped spinach triagles. And tamales. Yum.

G/O Media may get a commission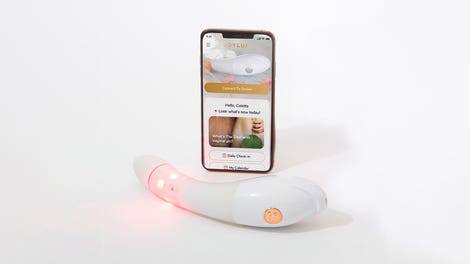 $50 Off
Joylux vFit Gold Device
There's something about pot pie on a cold day. So warm, so creamy, so filling. This one is lobster, but chicken is great, too. Also seen here: smoked salmon trio (scotch-cured, Maine sea spice and lemon-and-dill) and maple-smoked salmon fillet.

Beef. It's what's for dinner. Will you have filet mignon? Strip steaks? Rib roast? Or some dry-aged beef? Everything looks juicy and divine.

Some families always have turkey; my people are prone to ham. We like it soaked in bourbon and smothered in pecans, but both of these look okay. Let's just skip to dessert.

The "bûche de Nöel" is a cake that looks like a log. This one is chocolate genoise cake "rolled with a light, fluffy layer of chocolate ganache and rerobed in chocolate truffle buttercream cleverly sculpted to replicate bark." And those mushrooms are made of meringue. Some people love tiramisu; I think I'd opt for the peppermint gelato truffles down below. They're described as "silky-smooth," and now my mouth is watering.

Peppermint bark! It's official, the holidays have begun.

You can't actually buy this adorable igloo cake — Williams-Sonoma just sells the mold — but it's so cute!

Even better: Red velvet cake. Or cupcakes. Get your own.

Then there's 12-layer chocolate cake, coconut lemon layer cake and five layer mousse cake. Ever feel like you want to live inside of a cake?

You can try and live inside of this gingerbread manor, if you like. A recession bargain at $250. Oh, but here's a tip for the folks at Williams-Sonoma: Why not call your gingerbread cookies "kids" instead of "boys"? Especially when one is named Samantha?

Anyway, if the manor is a little high-end for your taste, downsize to a little gingerbread shack.
Williams-Sonoma [Official Site] Earlier: The Naked Chef: Pfaelzer Brothers Peddle Hot Food Porn