Did you see The Witch this weekend? If so, we need to talk about goats.
In case you didn't contribute to the $8.7 million pot it earned this weekend, The Witch is the story of a young girl whose family accuses her of witchcraft after her youngest brother goes missing. And it's not exactly the fun kind of witchcraft that your one friend with a tarot deck talks about at parties; it's more along the lines of the 1630s-style witching that ended with a ceremonial drowning.
Satanists are loving it—they're even hosting several screenings across the country—and released an excellent statement on the piece.
While the patriarchy makes witches of only the most socially vulnerable members of society, Eggers' film refuses to construct a victim narrative. Instead it features a declaration of feminine independence that both provokes puritanical America and inspires a tradition of spiritual transgression. We are empowered by the narrative of The Witch: a story of pathological pride, old-world religious paradigms, and an outsider who grabs persecution by the horns. Efforts to oppress and demonize the heretic prove to be a path to destruction. The witch does not burn but rises up in the night.

Emphasis mine, because you know who those horns belong to? This guy:
G/O Media may get a commission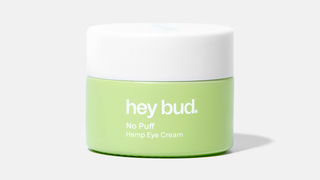 15% off
Hey Bud - No Puff Hemp Eye Cream
That's a goat.
My research skills are for naught, as I have been unable to locate the name of the goat who played Black Phillip, but I will say that he was so jarring that he had me seriously reconsidering the number of goat accounts I follow on social media. His haunting performance has many reconsidering their own feelings on goats—I know I'm not alone in this—and so I have come here to do some advocating on behalf of my favorite land animal.
Adorable! If you are new to Satanism, like myself, then maybe you don't know where the origin of the evil devil goat started. Like most misleading origin stories, it all began with the Old Testament.
But when the Son of Man comes in His glory and majesty and all the angels with Him, then He will sit on the throne of His glory. All the nations will be gathered before Him [for judgment]; and He will separate them from one another, as a shepherd separates his sheep from the goats; and He will put the sheep on His right [the place of honor], and the goats on His left [the place of rejection].

Goats to the left, sheep to the right. Woof, Christianity. I'll take a hard pass on this life lesson. Goats are adorable, fluffy, independent little creatures with minds of their own.
Please post your support for the goat community in the comments below. Thank you, and Goat Bless America.
---
Images via Getty/The Witch's website.
Contact the author at jenmem@jezebel.com.