The widow of the man Jennifer Aniston recently described as the first true love of her life slammed the actress for using her late husband as a publicity tool.
"He was my first love — five years we were together," Aniston recently said of Daniel McDonald, who passed away from brain cancer in 2007. "He would have been the one! But I was 25, and I was stupid." McDonald went on to marry actress and filmmaker Mujah Muraini-Melehi after his relationship with Aniston ended.
However, it seems McDonald's widow isn't happy with the fact that Aniston is throwing his name around in interviews. Muraini-Melehi posted about the recent flood of attention to her Facebook page. Redbook reports:
Mujah told Inside Edition, "Daniel and Jennifer had a relationship over 20 years ago, when they were both still very young. She made a life choice, but so did he. I am sorry that Jennifer did not realize the treasure that was Daniel when she had the chance, long before he and I met and long before he died. It pains me to read the headlines that allude to her losing him tragically when in fact she was not present during his long and difficult illness. Perhaps Daniel's gift was to teach her how to love, and to appreciate what she has with Justin Theroux."
"After Daniel died, I reached out to her to give her back all the photographs from the time they were together," she wrote. I never got an answer back from her."
---
The Soup offered up this slideshow as tribute to E's mix-up with some names on the Golden Globes Red Carpet and it is of course hilarious. [E]
Flavor Flav was indicted for drunk driving. Oh Foofy-Foofy, noooooo. [Billboard]
Congratulations to Usher on his engagement to Grace Miguel. [DListed]
The publicity team behind Jennifer Lopez and Ryan Guzman's new movie The Boy Next Door would like you to know they are totally definitely dating OK, I mean OMG LOOK AT THEIR CHEMISTRY WOW SO HOT don't you want to pay $10 to see them fake get it on? Come on, please? [Lainey Gossip]
Kerri Hilson played to a near-empty arena on a recent tour date and when people made fun of her, she responded "I spent my day being ridiculed for getting paid $100,000 in one night, to do what I love 4 years after being publicly relevant. FML." [Necole Bitchie]
Kylie Jenner is your "Designated Ugly Fat Friend" not because she is taking a stand against body-shaming jokes but because she's plugging a movie for some pals. [US Weekly]
Jennifer Lawrence freaked the fuck out when she found out Eddie Redmayne is a Real Housewives fan. As one does. [Interview]
Sienna Miller's babeh is in love with Bradley Cooper. [E]
If you doubt that last item, consider what went down on the new Real Housewives of Beverly Hills. (I would tell you what it was but I am a lady and I do not say such things. ::fans self, drinks glass of ice tea::) [Gossip Cop]
Duh. [The Hollywood Gossip]
Miley, you are so edgy I am afraid if I get to close to you I'll cut myself. [Just Jared]
G/O Media may get a commission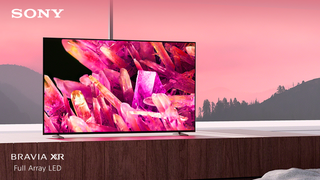 $400 off
Sony 55 Inch 4K Ultra HD TV X90K Series
Image via Getty.