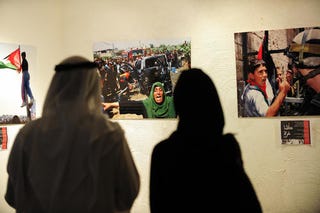 In Saudi Arabia, women cannot travel without the explicit permission of a male guardian. As this practice has grown less and less popular, a group of women have launched a pro-guardian campaign called "My Guardian Knows What's Best For Me."
Arab News reports:
As part of the campaign - entitled "My Guardian Knows The Best For Me" - the women have written a letter to Custodian of the Two Holy Mosques King Abdullah in which they confirmed their full support for an Islamic approach in administering the Kingdom.

The campaign has been launched to counter calls to abandon the Kingdom's guardianship or wali system. In a statement published on the Internet, Rawdah Al-Yousif, the campaign's supervisor and organizer, wrote about "her dismay at the efforts of some who have liberal demands that do not comply with Islamic law (Shariah) or with the Kingdom's traditions and customs."

Al-Yousif also pointed out in her statement that the campaign's mission is to promote the voices of Saudi women who reject the "ignorant and vexatious demands" of liberals to do away with the guardianship system.
Much of the reactions in newspapers and on blogs is in favor of doing away with the system, but the writers all take a nuanced view of feminist issues at play. After all, the complicating factor in this controversy is that other women are advocating to uphold a patriarchal policy.
Nesarine Malik debunks some myths over at Comment is Free:
I do not believe it is anything as clichéd as Stockholm syndrome or even a sincere commitment to what they believe are religious values. Even under subjugation, women have power, mostly over other women, and that power is drawn from their hard-earned position in the established hierarchy.

Those that have excelled at compliance have achieved some status and can then look down on the less honourable and rebellious. An assault on this system destroys an entire arsenal of survival skills and lifetime of work. Like the chronically redundant, they would have to retrain and re-enter the job market at junior level with all the other upstarts. In fact, by allying themselves to the male guardians, women are then delegated power that they can in turn wield themselves. They have a vested interest in the status quo and in maintaining their positions as the matrons of propriety.
She ultimately concludes:
Nobody is stopping women from deferring to their guardians' authority in their private lives, but insisting that this authority applies across the board shows a shocking disregard for other women not privileged enough to have guardians who "know what's best for them".
Blogging for the Huffington Post, Sabria Jawhar takes pains to explain how Islamic law is being conflated with local customs by the guardianship supporters:
Tribal customs should not usurp Sharia. Yet, to listen to the pro-guardianship camp, Saudi customs and traditions should indeed be a central part of the system. In effect, they are placing customs and traditions above Islam.

By waging a campaign fully supporting existing guardianship rules dooms thousands of Saudi women to being housebound servants to male family members.

A campaign to encourage guardianship, but also to demand that codified laws protect the abused, makes more sense. Such a system respects an independent woman's right to move about, attend university and marry whomever she pleases. It allows the family to determine a comfort level, but also imposes consequences on guardians who manipulate the laws to their own advantage.
Eman Hashim over at Muslimah Media Watch also uses caution in her arguments. Her analysis revolves around the tricky ideas of personal choice and agency and she writes:
Women empowerment will not be achieved neither by Saudi princesses quoting some verses from Qur'an on their online campaigns, nor by human rights activists who sometimes also slip into the same mistake of prejudice when they meet any woman whose life style is different from theirs.

Empowerment is the freedom to choose. Bring up your daughter to believe in herself and her potentials, educate her, and then let her lead her own life and make her own choices. If you bring up your daughter as a fragile creature that's liable to fracture and who is unable to protect herself, she'll grow up into a woman who's just that: a fragile creature unable to protect herself.

Give her the liberty to choose her life, and stop judging her if that choice doesn't resemble yours.
Women backing guardianship law create a stir [Arab News]
Saudi women fight for autonomy [The Guardian]
Saudi Tribal Customs, Not Islam, Responsible for Male Guardianship Abuses [Huffington Post]
Someone to Watch Over Me: On the Saudi Guardianship Campaign [Muslimah Media Watch]