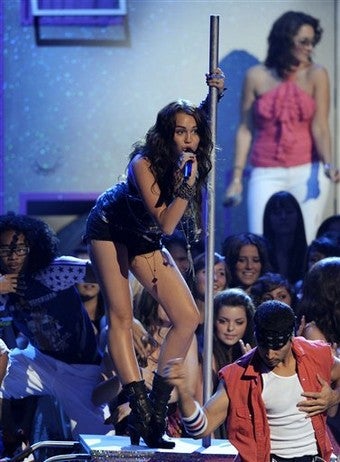 MG Durham writes in today's Guardian that the sexualization of young girls (cf. Miley Cyrus, Emma Watson, etc., etc.) is deeply damaging for them. But western culture's Lolita fetish sucks for the legal as well as the barely.
Durham rightly points out that sexualized images of girls (she mentions not only Cyrus and Watson, but the generally tender age of runway models and the popularity of films featuring child prostitutes) contribute to predatory marketing practices, sex trafficking, and an image of children as "sexually available." She writes that "young girls are increasingly posed as sexual objects of the adult gaze, while numerous clothing ads feature women dressed as little girls, sucking on lollipops, kneeling, crouching or lying in positions of subordination," with the result that grown-ups "interpret girls' bodies as sexually available." And not just available, but doll-like and without agency: "girls are reduced to one-dimensional, wholly limited figurines." She's particularly smart when she describes how Lolita-esque depictions of girls turn childhood sexuality into a kind of caricature meant to please adult men. She writes,
[A]s a culture, we have few ways to represent or acknowledge children's sexuality, and we seem incapable of dealing with it outside the realm of sexual commodification and commerce. Sexual curiosity and even some experimentation are ordinary features of childhood. Realistic, strong, and non-exploitative representations of girls' sexuality would be a progressive social step, but images of girls posed and styled as objects of the erotic adult gaze can't be.
Those who protest against sexy images of girls sometimes argue that people under 18 are innocent and asexual, but as Durham points out, this isn't always the case. Sexuality exists in (some) kids and teens — but that shouldn't make them objects of titillation for adults.
Nor should it make them sex symbols. Durham quotes sociologist Wendy Chapkis, writing, "the western ideal of female beauty [...] is defined by "eternal youth."" This is bad for girls, who have better things to do with their youth than embody an ideal of beauty. But it's also bad for adult women, who may no longer have the "naturally small, supple and nothing if not youthful" bodies that Chapkis describes as the ideal.
I'm far from the first to complain that the sexualization of very young girls devalues the women they will grow up to be. Durham hints at this with her complaint about the the "multibillion-dollar sales of anti-aging cosmetics, creams and plastic surgery," and she may explore it further in her book The Lolita Effect, of which the Guardian piece is an excerpt. But the problem deserves continued attention not just because it harms older women, but because it pits older and younger women against each other.
It's obvious that culture plays a role in which bodies are considered attractive. Media apologists tend to argue that sexualized images of girls and very young women are just feeding a biological male desire for healthy, fertile bodies on which to sire children. But anyone who thinks that sexual desire is nothing but the drive for reproduction has never been on the Internet, and what we see in magazines, movies, and TV shows helps determine what we think of as attractive and acceptable. It also determines how we interact with each other.
Anyone who's seen The First Wives' Club (not something I necessarily recommend) knows that the perceived higher sexual value of younger women can make older women angry. Perhaps more disturbing and insidious is the fact that by placing young girls at the top of the sexual totem pole, contemporary Western culture gives the most "power" (and whether being considered sexually attracted by men is actually power is another long, long debate) to people least able to think critically about it. Is it any wonder that girls and young women, told they are hotter and better than their older counterparts, sometimes fail to identify with women older than them? Or that they sometimes respond to America's social and sexual ageism by vowing never to get old (I doubt I was the only teen with a beautiful friend who said she was going to commit suicide at 40)? When we fetishize youth, we cut young women off from the older women who could mentor and help them, by implying that these women no longer matter. And we send young women the message that they, too, will soon cease to exist, and there's nothing they can do about it.
Plenty of girls and women admirably transcend these messages — seeking out older allies, advocating against ageism, and proclaiming both their sexuality and their worth outside sexuality throughout their lives. But they have to leap over multiple boundaries in order to do so. One way to remove some of these boundaries would be to let children be children — sexual, perhaps, but not objects of adult sexual desire. And not commodities in a value system they're not yet equipped to understand.