Ditto for anything using the term "Frugalista." And any other fucking thing I read about how "trendy" it is to be financially conscious. I'm not on trend, damn it, I'm fucking broke!
I'm starting to fly into a rage whenever I read some lifestyle piece based on the recession. (This is different from the rage I feel when I read an investigative or financial piece.) My latest bout of hatred was brought on by an Elle article written by Laura Hollinger called "My Year of Living Frugally."
Yes, I should have known better. But I read it anyway, wanting to holler in frustration. Some assorted sentences:
"Over the years, I've cultivated a look that says rich, even though I'm not – my six-figure salary allows me to live well in New York but hardly extravagantly [...]"

"Gaining entree to the social elite pays for itself with invitations to places and experiences way out of financial reach. Why not have as much four-star fun as possible?"

"A bad day at work would send me to Bergdorf's shoe department, or to Henri Bendel to drop $300 on makeup I'd never wear. Now I found new pleasure in resourcefulness. I took my favorite boots to the shoe repair guy, and had dresses and jackets tailored to this years' shapes. Financial responsibility was empowering, and, in its way, more addictive than shopping had ever been."
I read through the whole piece giggling at first - I thought it was a cute tongue-in-cheek piece about those are faring just fine in the recession suddenly doing silly things like hiding their purchases in brown paper bags. The part about scamming a Vail trip was pretty amusing:
"Through a vast network of friends-of-friends, we arranged dinners and party invitations for each night, meaning we'd only need to spring for one meal a day (and a couple of nights we made do on WheatThins).

"When the famous heiress next to me rolled her eyes and groaned about missing "wheels up," I nodded in a way that said, "I hear you, sister."
G/O Media may get a commission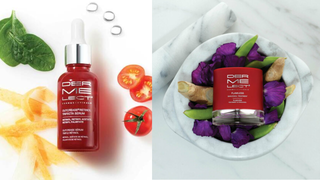 Save $19
Retinol Renewal Kit
But the idea that this was a comedic piece didn't last. Hollinger returns to NYC, but loses her will to save when catching sight of store markdowns. She explains:
I vowed to hunt for value, investing in pieces that would last for years and seeking out those few wardrobe additions (the perfect date dress, the best fitting long sleeve T-shirts to layer with anything) that would carry me from season to season. I did fall off the wagon just once last spring at the sight of $800 Lanvin silk sandals at Jeffrey, but paid for my sin when it rained for the next three months and they stayed in the box. [...]

Today, I maintain my expensive highlights and haircuts but spend less on blow outs and hair products (drugstore brands really do measure up. ) I take the bus to work instead of a taxi, and then I don't blink at dinner out with friends. Then I put every single expense, from groceries to doctor appointment on my AmEx card to earn points, which so far I've used toward a vacation and a new stereo system. In one year, I've saved roughly $6,000 - almost enough to buy that new Cartier watch I have my eye on...or to feed my savings account.
Huh? Now, this is not a simple case of sour grapes on my part. After all, if Hollinger has the money to play, it's her life. But I am really confused at why so many women fueling these trend pieces are creaming themselves over pretend frugality?
Especially when they don't have to?
Being financially savvy as a woman is an important and powerful thing. Understanding money, making it work to your advantage, and not being afraid of its possibilities are common themes that most people struggle with through the course of their lives.
But, if you are one of the lucky ones who managed to get through this recession with only minor tweaks to your lifestyle, then why are you doing a part-time game of make believe about coming hard times?
Over at my home blog, Racialicious, we were really feeling the recession. Four of us out of nine got a pink slip (or had the axe hanging over our heads) and most of us couldn't find work for months there after. Some of us have not found a steady paying gig yet.
Looking at my increasingly dire (as in, have to go round to the rental office to explain why rent will be ten days late this month dire) situation, I toyed with the idea of penning my own Recessionista-like tale to sell to the glossies:
"Upon realizing that my cheap ass fast fashion clothes wouldn't survive the withering gaze (let alone the needle) of a tailor, I tried to cobble together an interview outfit knowing damn well I was about to choose between repairing my one suit jacket and buying a day or so worth of groceries..."
"Making my way to the check cashing spot since my accounts were frozen from identity theft..."
"As I listened in disbelief, my editor explained she was pushing back my article for a third time, delaying yet again the $300 payment that I sorely needed before they cut off my cable again..."
"I smiled at the client, using $35 of the last $50 on my credit card to settle the tab, smiling harder as he apologized for forgetting his wallet back at the office..."
"I crossed my fingers and promised T-mobile another $100 on Friday, knowing damn well my next payment wouldn't drop for a couple of weeks..."
On second thought, I realize now why they publish these flights of financial fancy. Our lives are fucking grim. Hollinger is writing about her broke ass trip to Vail, I write about my broke ass trip to Safeway.
No matter what anyone is saying, broke is not the new sexy. Or the new rich. RICH is the new rich.
Can I sign up for Laura Hollinger's recession?
Official Site [Elle Magazine]
Earlier:

"Frugalistas" Must Cease And Desist
"Investing" In Your Closet Not Recommended By Actual Investment Experts