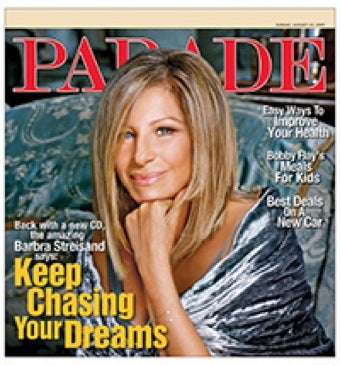 Parade Magazine, home of Howard Huge and smartest woman alive, Marilyn Vos Savant, recently released the results of their "Summer 2009 Pop Culture Poll," and while the results aren't surprising, one of the categories certainly is.
Readers were asked to vote in relatively benign categories such as "Biggest Trendsetter" (Winner: Michelle Obama), and "Sexiest Couple" (Winner: Brad and Angelina). But the poll also includes a few doozies: "Which Celebrity Is Most In Need Of Therapy," being one (the readers chose Lindsay Lohan) and "Who do you think is the most promiscuous celebrity?" As you can see, out of the six celebrities nominated, four were women. Paris Hilton, according to America, is the most promiscuous of all. America, you are as predictable as this poll is stupid.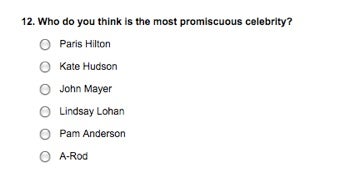 Remind me again what promiscuity has to do with a Summer Pop Culture poll? And why is Lindsay Lohan, who has obviously been in a relationship (albeit a rocky one) for quite some time now, even on this list? What the hell does this have to do with the other quiz questions, like, say, if you'd want "Samantha Who?" to come back on the air? Are we that desperate for quiz questions that we need to throw out a "Who's the sluttiest, America?" in Parade Magazine? Here's a question for you: "What is the stupidest poll question of Summer 2009?" Ding ding ding! We have a winner. For shame, Parade! Howard Huge deserves better.
Summer Pop Culture Poll [Parade]
Michelle Obama Picked As Big Trendsetter [UPI]